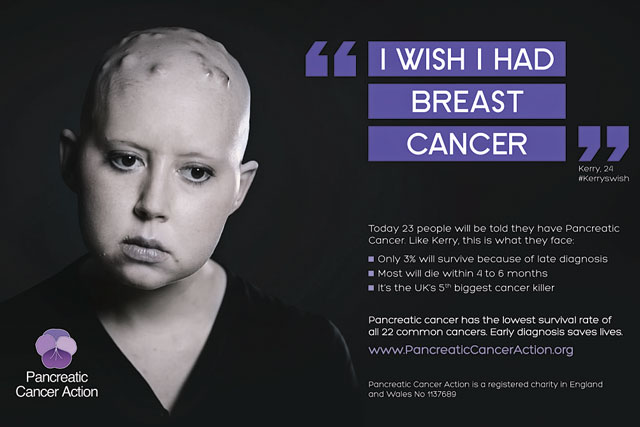 Shock ads of pancreatic cancer patients 'wishing' they had more survivable cancers grew awareness of the condition, leading to a projected increase in earlier diagnoses that could save the NHS £3.1 million – an ROI of about 4,000:1
Ali Stunt The fact that only 3 per cent of pancreatic cancer patients survive more than five years is shocking enough, but this rate has not improved in 40 years. We needed to highlight inequality among cancer survival rates.
Nick Radley There were lots of parties to be convinced of the potential rewards versus risks of a controversial campaign. The entire budget was £78,000.
AS The ads went out on 4 February. By 11am the next day, we had calls from almost every national newspaper. Eventually, more than 27 per cent of UK adults saw the ads and 43 per cent of those were more aware of pancreatic cancer symptoms. We are hopeful that greater awareness will lead to some being diagnosed sooner – thus saving lives.
The low point was when Kerry Harvey, one of the campaign's faces who had terminal pancreatic cancer, received death threats via Twitter. Kerry's death a couple of weeks after the launch hit us all.
NR This was the brand's first campaign, but the sector is used to shock tactics. Ours went further by voicing thoughts usually buried and considered "unsayable".