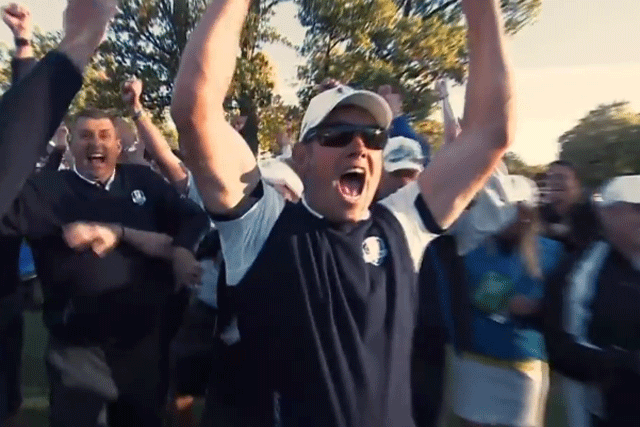 In the only Europe v US battle in sport, Sky, BMW and Paddy Power are getting in on the action.
Sky TV, the exclusive Ryder Cup broadcaster, has created the hashtag, #BringTheNoise and uses a remixed Public Enemy track of the same name for its promotional film.
The spirit of the strapline was embraced by USA's Bubba Watson as he whisked the crowd into a complete frenzy while making his opening drive in the first match of the contest.
The broadcaster has dedicated an entire channel to the competition.
Meanwhile, BMW, one of the major sponsors of the European team has created a comical online ad featuring presenter Clive Anderson and comedian Greg Proops, who take a road trip to the venue, bringing the intercontinental rivalry to life.
The car manufacturer is using the hashtag #DriveYourTeam and encouraging supporters to be as partisan as possible.
The other European team sponsors include Rolex, Diageo brand Johnnie Walker and EY, who will create activities at the event itself, with initiatives such as the "Johnnie Walker Experience" mini-golf course with simultaneous whisky sampling.
The Ryder cup's only and first-ever worldwide partner, Standard Life Investments has multiple activations at the event and is also using the hashtag #SLIexperience.
The company is asking fans to take and share selfies showing support for their team with a weekend at Gleneagles up for grabs.
Visitors to the event itself and a secondary venue in Edinburgh have a chance to win a visit to their favourite team's locker room. There is also a comprehensive website dedicated to the Ryder Cup.
HP, which does not directly sponsor the Ryder Cup, is backing the Guardian's coverage, including interactive maps of the course with realtime match updates and details about each hole.
Santander, a sponsor of Rory McIlroy has made a film featuring the world number one giving his views on the European team's chances while he drives balls off a pontoon on the Thames at a target upriver.
Paddy Power, notorious for high-profile activity around events it does not sponsor has enlisted Britain's most prominent Euro sceptic Nigel Farage, who, in the style of a party political broadcast, albeit delivered from a golf course, lists the reasons everyone should back Europe.
The USA Team sponsors are Mercedes, Omega and Samsung.