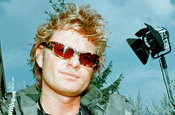 Name: Nicolai Fuglsig
Job: Director, MJZ
Mission: For sure, its gonna be fucking cool
Mantra: For sure, its gonna be fucking cool


9:00am: Wake up. The sun is shining. My photographer friend Peter Funch is visiting from New York. I wake him up from his hangover sleep in the living room

10:00am: Breakfast at the Directors Guild of America (DGA) headquarters on Sunset Blvd. I'm here to meet and greet the Coen's, Julian Schnabel, P.T. Anderson, and Tony Gilroy. No handshakes, just a nod. I am nominated for the DGA Best Commercial Director Award.

10:15am: I'm getting more and more nervous. I feel uncomfortable amongst such great talent. Can't eat anything.

11:00am: I am front row at the Directors Symposium. Two and a half hours long, and a rare opportunity to listen in on the masters. I feel better and better hearing that they are all struggling getting their movies made.

1:30pm: I leave for Rodeo Dr. in Beverly Hills to pick up my new and tailored tuxedo. I feel stupid spending so much money on it just for one night.

3:00pm: I'm back at my h ouse on Mulholland Drive. Peter has made lunch, nothing but kitchen tales from my friends, the Danish Mafia." Herring and Schnapps, trying to get hammered before our disco nap.

3:45pm: Am trying to nap but I don't fall deep enough. The phone is constantly ringing. The "Danish Mafia" and my entire entourage has arrived from around the world.

4:20pm: I shave and shower.

4:45pm: One by one I welcome my new penguin family.

5:00pm: We salute with Dom Perignon and snap photos not to forget.

5:15pm: Three black SUV's with tinted windows roll up my driveway. Totally Reservoir Dogs style, we are off in a convoy to the DGA Award Show.

5:35pm: I command the convoy to a halt at a gas station. We tank up our tired bodies with Red Bull and more cigarettes. 12 Danish guys in suit inside the gas station shop - it's a great scene.

6:10pm: Th e entire entourage arrives at the Hyatt Regency Century Plaza. Shiny shoes on the red carpet. We all pass 100 or so paparazzo's, but nobody takes a shot.

6:17pm I'm on the escalator ready to mingle - can't believe that Josh Brolin is just three steps down from me. Not really used to this.

6:20pm: Meet all of my fellow MJZ colleagues, Dante and Bond. We shake hands all thinking the other's gonna win.

6:30pm: - 2 Gin and Tonics in hand, I'm making my way to the table.

6:35pm: Wow I can't believe it, thousands of people are already seated, and my still face is being projected on a giant screen like no other.

7:00pm - Wine and dine, more nods to my fellow nominees. A "cheers," a "good luck"

8:00pm Not nervous at all, don't really care - just having a good time watching the show. One award after another passes by, a new director only to forget.

8:23pm: I meet Tom Wilkinson in the men's room. I don't dare look, he is limping. Why? Want to tell him how great he is in Michael Clayton but I keep quiet and continue adjusting my tie.

9:40pm - The gorgeous Juno actress Ellen Page glides across the shiny podium. She smiles, she jokes, and then I think she jokes again: "And the award for Best Commercial Director goes to: NICOLAI FUGLSIG!" KA-POW!! I receive numerous slaps on the back from penguins all around. I spill my wine, I get up.

9:41pm - I'm blinded by a spotlight shaking and nervous navigating my way through hundreds of tables. I'm rushing not to bore anybody. I almost slip onto the stage, but nobody noticed.

9:41 and 30 seconds: I give a hug to the one and only Ellen Page, she smells lovely. Golden award in hand I'm ready for my speech...

9:42pm ... I'm speechless. But cool, I do it briefly. Escorted off the stage, applause and whistles. I move through the dungeons of the hotel, passing the kitchen, dishes for thousands are ready to be served.

9:45pm: Wi th Ellen Paige, I take a corner - and there it is, the green room. Have never been in one of those before. 50 photographers and news crews are shouting and snapping away, Ellen still by my side... "look left!" "look right!" "up here!" "down here!" "one for me in the corner!" Ellen is told to step aside, but I am like, "no come back!"

9:58pm: I'm back at the table flashing my gold.

10:00pm: Wow I can't believe it. My best friend, and other fellow Dane, Asger Leth wins the award for Best Documentary Film Maker. Un-fucking-believable. Cool. The Danes are taking over.

10:05pm: I'm in the lobby calling my very pregnant, and overdue girlfriend in New York. She screams and shouts but cannot move.

10:12ish pm: Still on the phone as Blade Runner actress Sean Young, drunk and out of control is being escorted by security through the lobby. Julien Schnabel at the podium is somehow pissed off.

10:30pm: More awards, more drinks. I feel good, proud. Want more of these awards.

11:45pm: The show is over but another show must go on. Back in the convoy, off our heads, we leave for the MJZ after party.

12:05am: I step through the doors of Citizen Smith in Hollywood. Familiar faces and lots of beautiful people greet me with smiles and kisses. Humble and shy as I am, I play it down, but all the hard work around the world now feels good.

1:00am: The party is on it's max - 300 people jamming the bar. Drinks come flying my way from left and right. I sip a new, I finish another. "Stop it! Drinks on me guys!"

3:00am: Party's over. No it's not. A convoy of cars heads for the Hills.

3:20am:The after party, after the party, is on at my wooden cabin. A tap of champagne is running wild.

4:00am: Couples arrive, new couples leave.

6:00am: Crazy Norwegian is stalking the girls, where did he even come from? Oh, a friend of Bond's.

6:05am: Cabs coming and going. We throw the Norwegian in the trunk of one, tips through the front window.

6:30am: Me and my photographer friend, Peter Funch, cook delicious pasta for ringing ears.

6:45 a.m. - A last glance at my precious new bling before I hit the sack.