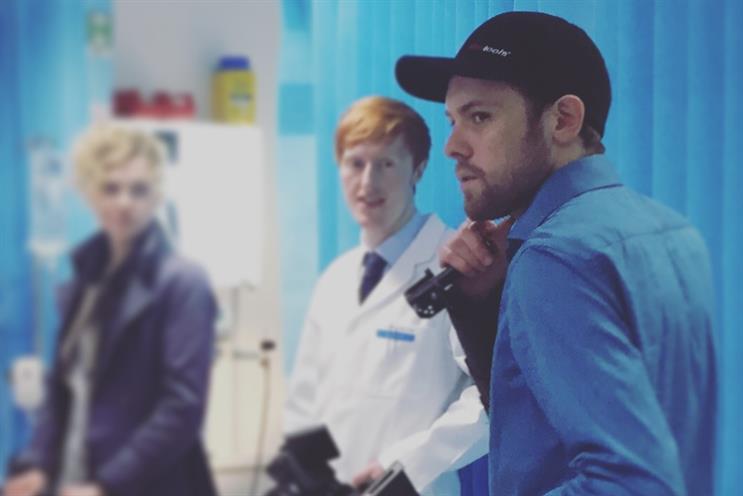 Alexander Thompson had always been skeptical about the European Union. But it took a dinner with a Eurosceptic friend one random rainy night after working as a content creator at ad agency BMB to get him properly fired up. He went to Vote Leave to offer to make a couple of jokey and conversational Lad Bible-style videos for free in his spare time. Instead, he ended up quitting his job and working on the campaign day and night for six weeks.
As Campaign revealed at the time, Michael Gove's former special advisor and Vote Leave's campaign director Dominic Cummings approached agencies in March in a bid to find a "hungry" shop that "wasn't afraid" of upsetting the government. By the time Thompson approached him, Cummings had failed to appoint anyone after being rebuffed by the big agencies and disappointed by the small. After a couple of conversations Thompson says he got the "green light" for his first film during his last week at BMB at the beginning of May.
A recycled Labour idea
The idea was for a split-screen ad showing what the NHS might be like in a future where the UK was inside and outside the EU. Thompson had originally conceived of the story for the predominately pro-EU Labour party when the then Ed Miliband-led opposition canvassed BMB for ideas for last year's general election. He felt it could work in the European debate too as Cummings had made the "clever link" between the £350m paid to the EU each week and the NHS and emblazoned it on the Brexit bus.
"Everyone uses the NHS at some point of their lives," Thompson explains. "It illustrated all the key messages about where the money is better spent."
Things moved so quickly Thompson didn't have a producer on board and so says he had to organise the shoot as well as direct it. The ad, "Which NHS will you vote for?", shows a woman taking an older woman to hospital. The pair living inside the EU are still in the waiting room as the credits roll, while the woman living outside the EU has been discharged. Thompson knew he was on to a winner: when it was shown at a focus group someone cried. The ad was broadcast in each of Vote Leave's four official referendum campaign broadcast slots on TV.
One of those other ads was "Win 50 million". Ostensibly it was a competition about the Euro 2016 tournament but in practice it was an "innovative idea for data gathering". When players entered – by guessing the outcome of each of the games in the tournament – they were also asked how they were likely to vote in the referendum and for their addresses. This information allowed Vote Leave to map voter intentions to street level, so they knew where to target efforts and if their predictions were correct.
Thompson's film to promote the competition was inspired by two builders, Kev and Gary, who did some work for his parents. They are transported from their local caff to an ostentatious mansion after winning £50m in the Vote Leave competition. The UK pays the same figure (not deducting what it gets back) to the EU each day. Thompson says the ad gave people a "real-life perspective to what that amount of money would mean if it was your own".
A film inspired by that first conversation with his Eurosceptic friend at the Marco's New York Italian restaurant in South Bank saw Thompson and his crew film empty trucks outside the EU headquarters in Strasbourg to highlight the monthly journey staff and papers make between Strasbourg and Brussels. "It was really exciting," Thompson says. "The EU staff were really friendly until they realised we were there to film the trucks. They were taking photos of our number plates. It was what I wanted to happen."
Other films Thompson created included "Sometimes in life", which compared the UK leaving Europe with quitting a bad relationship. Thompson thought the "great metaphor" would be "funny" after he broke up with his pro-EU girlfriend over his work for Vote Leave. Meanwhile, BMB's executive digital director Ben Lunt inadvertently helped Thompson with another film after he criticised using an old-fashioned steam train heading into light after Thompson talked about his idea on Facebook. In the final film the locomotive turns into a modern train.
Thompson says Cummings refused his requests to do a video with Boris Johnson and Leave politicians, insisting the filmmaker focus on the key messages. In comparison, Britain Stronger In Europe was promoting the views of businesses like JP Morgan and, he says, in the process reminding the key voters of investment banks' role in the 2008 crisis. Moreover, while Vote Leave repeated the same phrases relentlessly, the Remain ads had various lines: "Even the name Britain Stronger In Europe didn't reference what was on the ballot paper," Thompson says.
Fear over future work
The depth of the ad industry's commitment to the EU is demonstrated by the fact that Thompson struggled to find crew that would work with him. He eventually found a "really good producer" called Alexa but declines to give her surname in case it prevents her getting work in the future. Thompson is wondering whether he will return to advertising himself or stay in the political world – although his hopes of working on Michael Gove's bid for PM were crushed by the campaign's failure.
Thompson is keen to distance his work with Vote Leave from the immigration-focused activity of UKIP and Leave.EU. He says each time they released a new poster "there was a collective sigh" at Vote Leave. Yet he concedes immigration was a major issue and says outside of London "people are uneasy about it". Moreover, Vote Leave's films use some of the same language as UKIP. "Take back control" was a very successful slogan, and was picked up by ordinary people.
Much has been written about why the Remain camp lost. But Nigel Farage and his controversial "Breaking point" poster have largely overshadowed the official Vote Leave campaign. None of the ads Thompson made are going to win any awards for creativity, and some people might find a couple of them downright distasteful. But their target audience appreciated them, shared them and believed them. And there surely has to be a lesson for the ad industry in that.