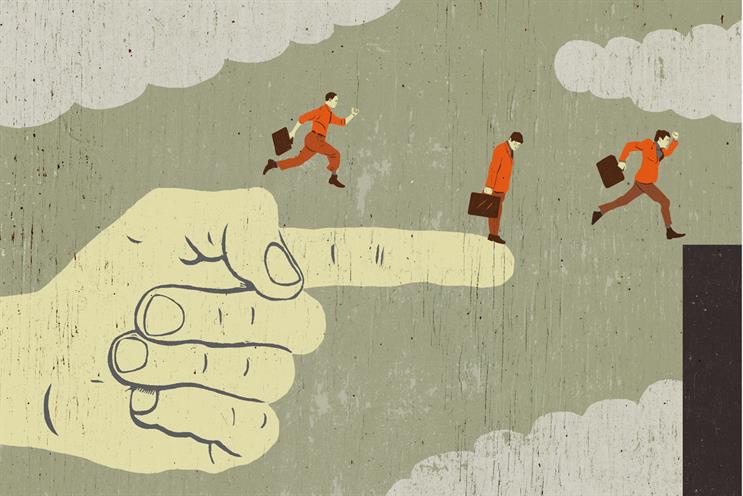 Richard Marshall
founder and chief executive, TMW
1. Agencies are like restaurants. They need to consistently serve outstanding work, have a great atmosphere and deliver seamless service. Perhaps we need a Michelin guide for agencies?
2. Pitching for new business has become vastly more complex and costly over the years. Knowing your PQQs from your RFIs and RFPs is an essential part of the process. These days, you could do with a PhD in mastering the art of writing an engaging document.
3. Trust your instincts. Taking an intuitive approach to decision-making is something that grows with experience. Sometimes, intuition is the most important decision-making tool when faced with complex issues.
4. What got you where you are today may not necessarily get you where you need to be tomorrow.
5. You need to create an environment where change can happen quickly, even if it means taking calculated risks. The key is not being afraid to fail – but if you do, fail fast and move on.
6. Build your agency brand and make sure that staff and clients alike know and understand it. There's a mesmerising choice of agencies out there, so you have to be distinctive in what you stand for.
7. Creating a unique company culture is vital and often it comes from the founders of the business. TMW has a strong set of values that bind us together, but you have to live those values to make them real.
8. Lead from the front and get stuck in. It's important to be hands-on, especially when running a people business, and clients notice it as much as staff. I'm not averse to handing out copies of Campaign on a Thursday morning or sitting with the pitch team until the small hours of the morning.
9. Great clients attract great clients, so concentrate your efforts on working with the best.
10. One thing that never changes is the continual need to produce the very best creative work you can. It's the most visible constant that remains at the heart of an agency, no matter what the medium is.


Robert Prevezer
founder and chairman, The Communications Agency
1. Stay true to your principles. It is easy to get sidetracked along the way. Is it still the kind of agency you wanted to create in the beginning? Agencies are all about the culture. There are plenty of agencies that can do good work. But, if you were the client, would you actually enjoy working with them?
2. Don't try to work for any client. At the beginning of The Communications Agency, we were desperate to work for anyone. It took a few years to realise that it was far better to work with people who really wanted to work with us and who shared our values. The best work comes when there's a great relationship – when there's mutual trust and respect.
3. Nothing beats looking after your clients properly. Old-fashioned client service is still appreciated – even 25 years on. Simple things such as replying to e-mails quickly (with the information the client wants!) and bothering to go to present work – even if they're outside London.
4. In the craziness of running a business and looking after clients, don't forget to look after your team. They are your greatest asset and clients can feel when they are happy and motivated.
5. Lead by example. If you're supposed to be the boss, the job still needs the same energy and commitment as it did 25 years ago. No time to take it easy.
6. Never take no for an answer. We've heard "it's not possible" lots of times. Persevering and being tenacious are prerequisites to survival.
7. There are no rules to new business. Success can come from anywhere – and often the least expected places. Everyone you've ever met could be a potential source of new business. Keep that network warm!
8. Surround yourself with clever people. Probably the best thing I've ever learnt. No-one knows all the answers (and anyone who thinks they do is an idiot). Find the very best people out there and bring them into your business. And if it can't be full-time, make it part-time. Hold on to them – they could help you win your next pitch.
9. You can't fake the passion. If it isn't getting you up in the morning, it's time to get out. Clients can sense when an agency is genuinely hungry.
10. And finally… never forget that you're running a business. Unfortunately, the boring things such as cashflow and managing overheads are important. If you don't get this right, you simply won't have a business in five years' time, let alone 25.