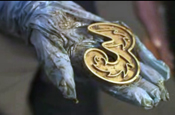 On Wednesday, the Advertising Standards Authority banned a press ad and brochure for T-Mobile which used the line "You won't find more minutes for £30. Guaranteed", following a complaint from 3.

Today, 3 spoofed one of the TV spots from the same campaign, where a vet sticks his hand up the backend of a cow.

In the T-Mobile version, by Saatchi & Saatchi, the vet, looking for extra minutes, was unable to find anything during his rummage.

But in the new version, the vet manages to find a logo for 3.

In making its original decision, the ASA upheld 3's claim that the press ads and brochure were misleading because its Mix & Match 1100 tariff offers up to 1100 voice minutes for £27.

The T-Mobile TV ads, which also featured a man's voice during a séance and people on an archaeological dig, escaped censure from the ASA, as they did not make the same "guaranteed" claim.