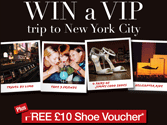 The 'Step out in style' campaign, created by Blue Chip Marketing, aims to drive sales among women in office admin and capitalise on the release of the Sex and the City movie in May. It will run from April until the end of July with a £10 shoe voucher for consumers who submit proof of purchase for a qualifying number of products.
Vouchers can be spent in a range of high street shoe shops including Clarks and Ravel. Shoppers will also receive a Spring Style Guide to give them tips on fashion.
Entrants to the free online competition will have the chance to win a trip to New York with three of their friends. The trip will include a personal shopping trip to the designer shoe store Jimmy Choo, popularised on the Sex and the City TV show, where they can choose four pairs of the shoes.
The promotion will be supported by online and print advertising in the trade press. Online ads will appear on sites such as Yahoo and Hotmail, as well as office admin forum site Desk Demon.
3M ran a similar fashion promotion in October 2006 when it teamed up with Twentieth Century Fox for The Devil Wears Prada. The campaign offered a competition to win a trip to Los Angeles, a free mini lint roller and a £5 fashion voucher that could be redeemed at high street shops such as Selfridges and Topshop.