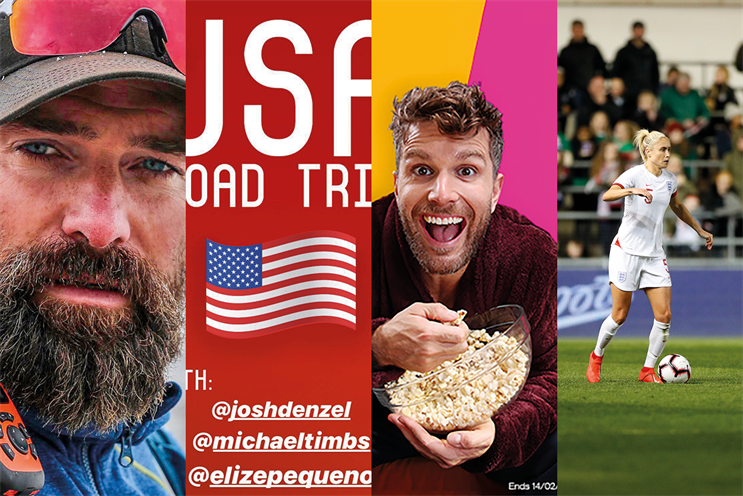 Our industry is going through constant transformation. It literally never stops. So it's great to shine a light on some excellent work from our clients here that heroes their transformation journey. This might be through a totally new approach to targeting and a transformation in the role of the brand from NOW TV. Boots has made a step change in its comms by backing women's football. Berocca had a mountain to climb in shifting brand perception, and did so by climbing Everest. And Brand USA is changing how sports fans view America. Our next Transformation Week is coming soon at MediaCom in late June, when we will once again throw everything up for challenge and discuss the most exciting ideas in media and consumer comms.
Boots
Helen Normoyle, UK marketing director, Boots
At Boots, we believe everyone has the right to feel good – because when we feel good, we have the confidence to positively influence others. It's thanks to this ethos that we have a strong female following and are known as a brand that actively supports women. Today the need for this support is stronger than ever, especially among teenage girls, whose confidence unfortunately drops by 30% between the ages of eight and 14.
We knew we wanted to do something to encourage female empowerment, and what better way to do so than showcase incredible women athletes who inspire self-esteem and confidence, using our reach to support raising the profile of both women's football itself, and the inspirational international players involved.
It is an exciting time for women's football. With 1.7 million young girls playing football regularly, it is the highest-viewed sport among women, and there are two huge tournaments on the horizon – the FIFA Women's World Cup, in June and July, and the Euros in 2021.
Boots is the first brand ever to sponsor all five national women's football teams in the UK and Ireland. Partnering with the England, Wales, Scotland, Northern Ireland and Republic of Ireland women's football teams allows us to help tell the stories of these inspirational athletes, and help women everywhere experience the amazing confidence that sport can bring. We'll be focusing on OOH, social and PR to deliver our message.
This partnership is hugely exciting, giving us the opportunity to engage with our customers in new ways and show up in very different places. It supports a much bigger social conversation to help improve the confidence and wellbeing of others, bringing to life our purpose of championing everyone's right to feel good.
Now TV
Emma Quartly, marketing director, Now TV
Imagine earning your salary, just by binge-watching your favourite TV shows. Sound like the opportunity of a lifetime? That's what we offered with the NOW TV 'Box Set Sabbatical'.
How do you get millennials who love to stream content to sit up and take notice? By changing their lives. In January 2019 we created a campaign to transform front-of-mind awareness for NOW TV. We launched 'Box Set Sabbatical', a campaign offering the chance to win a year's salary, so the winner could spend the year catching up with all the great shows we have to offer.
This was a transformative idea for the brand, fully integrating a relevant and timely PR campaign with paid-media amplification. Early thinking showed that we also needed a transformational approach to the paid-for media element of the campaign. It was all about attitude; our normal targeting techniques didn't apply.
January stood out as the opportunity, with the 'January blues' and 'New year, new me' mentality spurring people to leave their jobs. Our insight showed that early week and mid-afternoon were our sweet spots; the prime time for procrastination and daydreaming of a different life.
Armed with this information we produced targeted content across the channels our audience engage with en route to work and when losing focus during the working day. We used social and podcasts to reach a discontented audience using keywords and hashtags such as #hatework, #hatemondays, and #needaholiday.
We then layered this with targeted creative around Buzzfeed's 'Do you actually enjoy your job?' quizzes, and audio and display targeting around Commute, Focus and Work playlists, with the NOW TV Stick It to Your Boss Spotify playlist providing the ultimate soundtrack for listeners to quit their jobs. The campaign was new territory for us and the results were fantastic.
Bayer
Ben Vertannes, Berocca brand lead, Bayer
Berocca is famous, but not always for what we'd like it to be famous for.
It's perfect for helping to tackle tough moments daily, and for helping to support your energy*. We wanted to change outdated perceptions – but extreme perception changes demanded extreme measures. In our Berocca ad-funded Channel 4 programme Extreme Everest, adventurer and ex-soldier Ant Middleton would take on Mount Everest.
Berocca's new creative platform, 'No day too tough'*, centred on injecting positivity into tough moments. To bring it to life, we visualised the toughest day imaginable: conquering Everest. So, we worked with Channel 4 and Middleton to do this.
His credible voice and challenging journey would show consumers that Berocca could help them face tough moments too*. This would drive product understanding, teach Berocca's benefits of supporting energy release and mental performance**, build relevance among consumers and drive brand fame.
The programme attracted 1.7m individual viewers and purchase intent grew by 17%.
Brand USA
Tracy Lanza, VP, integrated Marketing, Brand USA
To Brits, America is associated with Friends and Hollywood, but there's so much more beyond the Statue of Liberty and the Golden Gate. But how could we best drive interest and showcase what else the country has to offer? Through specifically localised and inspiring content. So for our UK campaign we partnered with Copa90 and sent three influencers to capture the US through the exciting lens of American sporting culture.
In 2018 we were looking to promote sports enthusiast travel to the US. The British NFL Games rated as the best sporting event in the UK, and our analysis showed that holiday searches related to participating teams spike during the events... so we transformed the NFL experience into a ticket to the US.
This wasn't easy, as US sports are often dismissed by British football fans. Working with Copa90, we sent three footy-mad influencers on a road trip taking in Major League Soccer, the NFL and college football, to bring the unique US sports experience to life. Tailgating, homecoming, beer pong and BBQs; it couldn't be more of a contrast to a wet Saturday in Sunderland or Leicester!
Avoiding more recognisable US destinations, the trio embarked on a Winnebago-powered road trip across Georgia and South Carolina, offering a true taste of Southern hospitality that sportsloving Brits could enjoy – with Instagram-worthy backdrops.
Fifteen-minute travelogues placed the viewer in the middle of the local cultures and traditions surrounding sport. With something for everyone, we were able to convey real travel experiences in a unique and organic way.
It was a different approach – and significantly more complex than an ad campaign – but it paid off. Positive sentiment rose by 80%, while UK traveller spend in the US reached $15.9bn – of which 15% was from sporting events.
*Berocca contains vitamins B1 and B2, which support energy release.
**Berocca also contains vitamin B5, which supports energy release and mental performance.