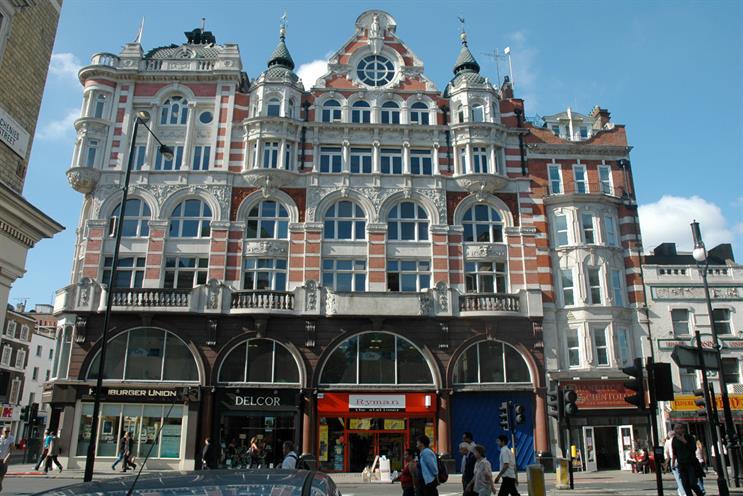 Imagine an agency building shared by Charles Saatchi, Sir John Hegarty and John Webster. Add Lord Puttnam and Martin Boase for good measure. And top it off with Stanley Pollitt, one of the founding fathers of account planning, and Michael Peters, the godfather of British design.
Believe it or not, this selection of industry legends actually once worked out of a single set of offices. But all were too busy doing their own thing to come together within a single agency, formidable though such a grouping might have been.
Nevertheless, for a three-year period in the late 60s, all were to be found working on successive floors of a building that Hegarty now describes as "one of the most influential addresses in the advancement of British creativity".
On the corner of London's Tottenham Court Road and Goodge Street, the building has had a remarkable double life.
With its flamboyant mock Renaissance exterior with carvings of birds under its bow windows, it began life in 1904 as a store selling carpets and linoleum.
Six decades later, it transformed into offices housing, as Hegarty remembers, "groups of companies that, in their own ways, were going to revolutionise the advertising and entertainment industries".
Only with hindsight is it possible to understand what a formidable array of iconoclasts occupied 16 Goodge Street at that time.
The first floor housed Puttnam, fresh out of Collett Dickenson Pearce and forging a new career as a photographer's agent. He was already representing some of the hottest snappers in town, including David Bailey, Terence Donovan and Lord Snowdon.
On the floor above, Boase Massimi Pollitt was opening for business. The first of the so-called "new wave" agencies, the start-up had vowed to match Pollitt's newfangled account planning with brilliant creative work.
A further flight of stairs led to the consultancy Cramer Saatchi, newly formed by Saatchi and Ross Cramer as a means of better controlling their creative output. With Hegarty's arrival from Benton & Bowles, the company was finding a voice and confidence that led to the birth of Saatchi & Saatchi.
At the top of the building sat Klein Peters, the design company established by the one-time CDP creative Peters and his business partner Lou Klein. Their subsequent split was somewhat acrimonious, although Peters went on to revolutionise the relationship between design and business.