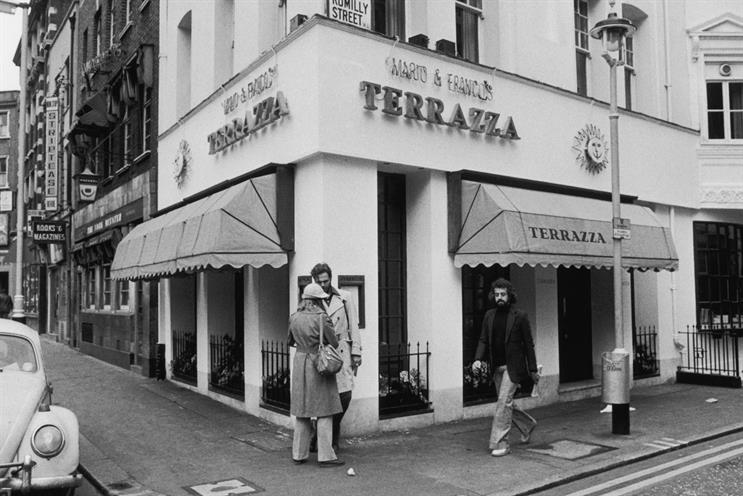 La Trattoria Terrazza – to give the place its full moniker – was in Soho's Romilly Street and can fairly be said to have launched a gastro revolution in the UK in the 60s by kick-starting the country's love affair with Italian food.
With credentials of that kind, it was no surprise that the Tratt, which opened in 1959, quickly became the restaurant of choice for newly enriched and free-spending adfolk. "It was expensive and flashy," Tim Mellors, Grey Group's worldwide chief creative officer, recalls. "It was just perfect for advertising people."
Andrew Cracknell, the former Bates UK creative chief and Ammirati Puris Lintas London chairman, says: "The Tratt may have had a very different style to The Ivy, but it was very much The Ivy of its day."
To understand just how ignorant most Britons were about foreign cooking at the time, it's as well to
remember that the Tratt opened its doors just two years after a BBC Panorama April Fools' spoof about the annual Italian spaghetti harvest took in thousands of people.
The Beatles, David Bailey, Sir Michael Caine, Brigitte Bardot and even Princess Margaret were among the Tratt's first diners. However, adland luminaries such as Ronnie Kirkwood, Sir Frank Lowe and Barry Day, the former McCann Erickson and Lintas worldwide creative director, soon followed.
The place quickly established a reputation for authentic Italian food, although it reflected conservative British tastes of the time. You could always get chips with your steak tartare.
"Actually, the food wasn't sen­sational," Mellors claims. "But the place was light and bright and media people were always warmly welcomed. When you were there, you really felt like somebody."