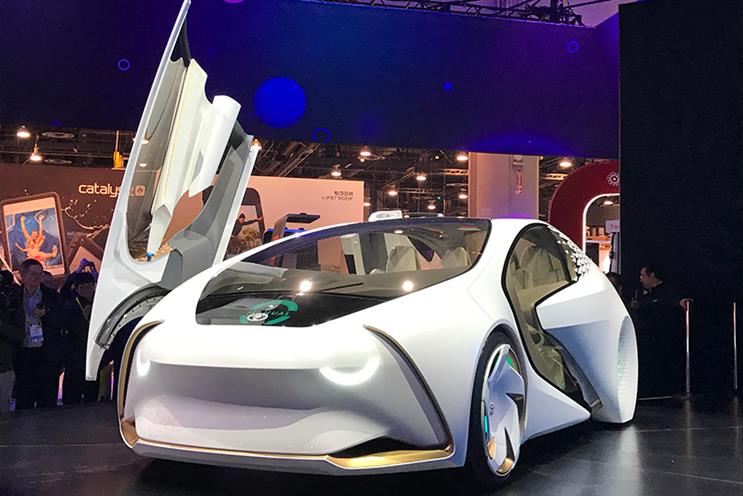 Not all technology at CES is relevant to marketers. Out of the nearly 4,000 exhibitors at this year's CES—which celebrated its 50th anniversary—it's likely only a handful will matter in the years to come.
To help brands manage the sprawling convention, ad agencies give tours of the massive halls in Las Vegas, distinguishing the tech that really matters for their business from the shiny toys that will disappear by next year.
This year, media and tech experts are swearing by products that integrate with Amazon Echo, autonomous cars, artificial intelligence robots and miniature drones. Of the dozens of CES inventions that marketers raved about, we selected the five you need to know about now.
Westinghouse 4K Smart TVs with Alexa Integration

Even more than autonomous cars and wearable gadgets, the big standout this year was Amazon's voice-activated speaker, Echo. It seemed that everywhere you looked last week, another brand was announcing a partnership with Amazon that brought its services to consumers straight through Alexa, Echo's voice assistant.
"Whether you stayed at the Wynn Hotel, where every room had Alexa connectivity, or roamed the show floor, Alexa-connected or direct integration partners were everywhere," said Jake Schneider, director of digital strategy and innovation at The Marketing Arm.
The integration that stood out for Schneider was Westinghouse's new line of 4K Ultra Smart TVs. They have Amazon Fire and an Alexa-powered voice remote baked in, which means viewers can stream live shows and movies simply by speaking into the remote. The partnership marks Amazon's first licensing relationship with a television manufacturer.
What's more, viewers can switch to Amazon streaming content without the need of a Fire TV stick. The remote also allows users to check the weather, turn off lights or open the garage door, eliminating the need for a separate Amazon Echo.
The line of TVs will be available in the second quarter of 2017 at a price of around $1,000.
Bosch Kuri

Whatever form it comes in, artificial intelligence can make it easier for consumers to perform everyday tasks like ordering clothes, finding recipes and planning their weekend. At CES this year, AI emerged on the showroom predominantly in robots designed for the home.
"There's no doubt the robotics industry has taken a first step toward becoming a consumer product, with most now evolving from a smart, desk-bound tower to a smiling simulacrum to Wall-E with wheels," said Craig Atkinson, chief investment officer at PHD.
Atkinson's favorite? Bosch's Kuri. On Tuesday, Mayfield Robotics, an independent subsidiary of Bosch, revealed the 20-inch home robot, meant to be a friendly assistant around the house.
Equipped with loudspeakers, sensors, an HD camera and microphone, Kuri can play music, move independently throughout the house and integrate with a smartphone app to alert its owners about what happens when they're out. The machine-learning robot also has facial recognition capabilities, which allow it to remember and react to the people it sees every day. Moreover, it stands as another direct-to-consumer channel for brands. Kuri is expected to launch in the U.S. at the end of 2017 (Price tag, $700).
While this intelligent robot might start showing up in living rooms across America, Atkinson predicts that these assistants will only become more advanced in the years to come. "Next step walking, and ultimately merging with drones for flight," he said.
LG's InstaView Refrigerator

Technology companies understand that the kitchen is one room where a virtual assistant like Alexa can be especially helpful. This year, LG integrated its line of smart InstaView refrigerators with Amazon's Alexa assistant, allowing users to speak directly to the fridge without tapping on the digital screen.
Chris Bowler, senior vice president of social and content marketing at SapientRazorfish, said it's one of the standout products of the convention. "It's voice-activated, allows you to bring up recipes, order things on your shopping list and buy things through your refrigerator to replenish your shopping list." The fridge also tells you what food you currently have inside.
This technology makes it easier for consumers to order groceries quickly without opening up their smartphones, which makes it a potential game changer for grocery and CPG brands.
Like the Westinghouse TVs, the InstaView fridge could eliminate the need to own a separate Echo, as it already performs many of that device's functions, like playing music, checking the weather and telling jokes. While the cost has not been set for the fridge, an earlier model of the InstaView went for $4,600.
Watch Bowler demo the new technology:
Zerotech Dobby Pocket Selfie Drone

Drones were a huge part of CES again this year, but advertisers should take special note of the Zerotech Dobby Pocket Selfie Drone, said Matt Arnold, senior engineer at SapientRazorfish.
The Dobby Pocket Selfie Drone is the Chinese manufacturer's first aerial photo drone for consumers, and compared to many other models, it's much easier to use. It can be quickly launched by tapping it three times, tossing it into the air or through a voice-activated app. And with its foldable propellers, it can fit in a pocket or the palm of your hand.
"It's like the ultimate selfie stick," said Arnold. "They are using optical flow, so when it's flying and starts to drift one way or the other, it knows about that and corrects automatically. Love it--so simple."
With drones like this one becoming easier to use for the average consumer, it's likely there will be more adopters, which means marketers should expect more access to user-generated drone content. And with an HD camera, it ought to be good. But at $400, the price is still toward the higher end of the spectrum.
Watch Arnold's CES floor tour here.
Toyota Concept-i Car

Last Wednesday, Toyota unveiled an autonomous concept car that the company believes should be ready for the road by 2030.
The car's AI is affectionately called "Yui." It's a system that uses facial recognition to measure a driver's mood, can learn a driver's likes and dislikes and even gives drivers a back massage as it goes in and out of manual mode.
Although it probably won't hit the road for 10 years or so, that doesn't mean that marketers shouldn't be paying attention now.
Pete Imwalle, chief operating officer at independent agency RPA, said autonomous cars make it easier to connect with drivers on the road since they don't have to concentrate as much on driving. He envisions people spending more time in their cars than ever before. "Your car becomes another living room where you're going to want to absorb entertainment and other media," said Imwalle. "What do we do with the inside of the car if the driver no longer has to drive?"
And there is clearly a lot of interest—or at least curiosity—among consumers already. Alexis Ohanian, co-founder of Reddit, said the livestream of the reveal took over Reddit. "We had 55 million views at the end of the day for that livestream." He called the Toyota Concept-i Car experience at CES "car porn." "It's basically sitting in the future."