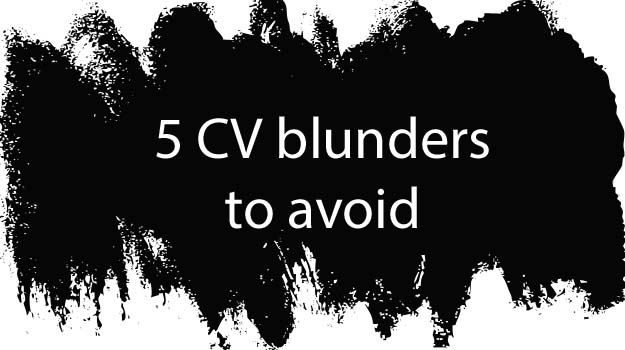 It's easy to make mistakes. That's what makes us human. It's when we keep making the same mistake that we need to ask ourselves some serious questions. If you have been applying for lots of roles and not getting any responses, then these 5 CV blunders and how to avoid them may just be for you.
Don't use a generic CV
Just as no two jobs are the same, then you shouldn't use the same CV to apply for multiple roles. Even common job titles like 'event coordinator' can have very different responsibilities. By reading the job and person specification carefully you should tailor your CV for each application and weave in the language each employer uses. It is better to focus on fewer tailored applications than the scattergun approach with a single version of your CV.
Pasting a job description in your CV
Your CV is a personalised document and should contain examples of relevant achievements together with facts and figures to support these. Too many job applicants simply copy and paste job descriptions. You need to demonstrate high performance and a job description just will not do this on its own. If every applicant simply lifted their job description into the CV think how difficult it would be for the recruiter to decide on whom to call to interview.
Spelling mistakes
Research by Adzuna showed that 46% of CVs uploaded onto their job board contained two or more spelling errors. It is estimated over 2/3 of CVs have at least one spelling mistake. It hardly sounds believable and yet many applicants let themselves down with the most basic errors. Simple solution: get someone else to proof your CV. Two pairs of eyes are always better than one.
References
You can save valuable space in your CV by omitting references. There is no need either to say 'References available on request'. The reason is that it is way too early in the recruitment process to provide references. These will only need to be given after you have been made an offer and that could be weeks if not months away.
Infographics and overly designed CVs
A CV should look professional, clean and clutter free. Steer clear of using fancy fonts, design features and different colours. Your CV should grab attention through compelling information – not design gimmicks. Job board software cannot read infographics either so this information is wasted for when recruiters do online CV searches.
CV Writers provides a range of CV writing services including a free CV review.