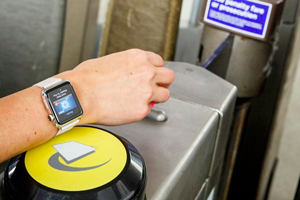 The technology and data available to marketers have increased exponentially and new opportunities have opened in the world of programmatic delivery, wearables and exciting new formats such as 3D advertising.
As we look forward to the coming year, all signs point to 2016 becoming another exciting year of growth rooted in technology. Here are some of my predictions:
3D touch
When Apple announced the IPhone 6S in September, the feature that have everyone talking was 3D touch and other handset manufacturers quickly followed suit. It's still early days with this technology, but like so many other innovations rolled out by Apple over the years, it's over the coming months we'll really see the potential of this technology as third party developers adopt it into their apps.
As the ad industry begins to realize the potential of touch and engagement for brand advertising on mobile, I forsee some breakthrough campaigns using this technology in 2016 (an early Cannes Lion winner prediction perhaps?).
How the ad industry will adopt this is still open, there have been reports of Instagram rolling out 3D Touch in 2016 but little else. Who will be the first brand to adopt this and get the inevitable PR opportunity that will go with it?
Carrier level blocking
It will come to no surprise to most of you that Google reports a 500% increase in the term "ad blocking" in news articles in the second half of 2015.
Next year I predict this conversation increasing in intensity, with it moving to a high profile and bloody legal battle, most likely either coming from a block-the-blockers company, such as Sourcepoint, or a carrier level blocking company, such as Shine.
The ad industry will watch the possible court battle unfold with bated breath as it will set a precedent for the industry for years to come. In the end I predict that money will win out. Someone will pay someone something to block blocking.
And in the meantime, hopefully the ad industry will move, like some slow Global Warming debate, towards a consensus on better advertising.
Video goes mobile
Video has had a great 2015, largely driven by Facebook, Instagram and Snapchat. Next year I foresee advertisers taking this adoption to the next level, primarily in two ways which I see as the biggest opportunity:
Firstly, vertical video will be come more prominent as marketers will realize the impact, which will make creatives follow suit
Secondly, I'm particularly excited by the potential of Facebook's 3D video (as can be seen in this Star Wars example) as they begin to push the Facebook platform (and the rest of the industry) towards a virtual reality world.
Imagine we will see some big releases in this area in 2016, and it's a very exciting time to be in the industry as we see this technology unfold.
Mobile becomes your wallet
The end of the cash economy has been heralded for a long time, but with the release of Apple Pay, I believe 2015 will be remembered as the year we took great strides toward realizing this vision.
I firmly believe the reason that some technologies are adopted, and some are not, is down to how it makes the world easier for the end user. And those of us that have waited in line at the Underground or bus, fumbling around for our wallet, only to hear the beep beep sound of an empty Oyster card will agree that this is one sound we are unlikely to have warm nostalgia towards.
Further user adoption towards this technology and away from cash is inevitable. I recently took a trip to San Francisco, and did not use any cash whatsoever. They say that San Francisco is 6 months ahead of us with technology, and I agree in this case.
Advertising adopts mobile first technologies
I've always wondered why, when our mobiles are so advanced with touchscreens, haptic and gyroscope technologies, that mobile advertising has remained relatively passive, using the 30 second video and banner.
I understand the reasons for this (largely around the change in the way we trade moving to programmatic and the importance of scalability within this), but I predict 2016 being the year this changes, as we see creative programmatic no longer being an oxymoron.
Via our business Adludio, we have seen first-hand that integrating mobile technologies such as touch, 3D and haptic technologies into advertising delivers enhanced results for our clients such as Unilever, Nike, Nestle and others, with independent studies showing a 10x increase in brand recall vs. mobile video in campaigns where these mobile first technologies are used.
I look forward to seeing truly great mobile advertising in 2016 that pushes the bounds of mobile phone technology, rather than pushing the boundaries of how to hide an 'X' on the screen.
Paul Coggins (@Paul_Coggins) is CEO of Adludio