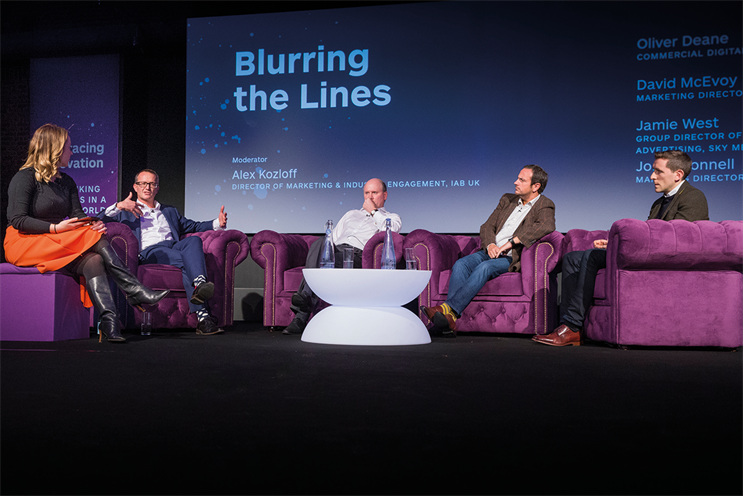 1. Fail fast to succeed
Quantcast chief executive and co-founder Konrad Feldman opened this year's Supernova with a look back at the history of artificial intelligence – and the lessons we can learn from its development.
AI has developed through a process of iterative improvement – in essence, failing to succeed. "Failure represents the exploration of a new space, which then helps you make further developments quickly," Feldman explained. The DeepMind AI was able to beat the world champion at the game go through this iterative process; rather than working from an established set of rules, it learned through playing against itself, gradually improving its strategy through losing.
To apply these lessons, Quantcast has created a culture of structured and unstructured innovation, Feldman said. By setting broad goals, this enables teams to experiment in order to find novel solutions.
Hackathons and "Quantathons" let every member of staff contribute ideas, regardless of their discipline, and automation frees up creative resources. All this means that staff can focus on applying their insights to business strategy.
2. The new currency for media-owners is data
"Media-owners have allowed the lines to blur," said Jon O'Donnell, managing director of ESI Media, in a panel discussing the changing habits of audiences. Bringing together senior figures from TV, radio, outdoor and publishing, the discussion explored how digital enables audiences to curate their ad experiences across a range of devices and platforms – and how the lines between media-owners are blurring, too.
"Our business has changed," said David McEvoy, marketing director at JCDecaux. "We've gone from billboards to a primarily digital business. Our new currency is data."
Jamie West, group director at Sky Media, revealed that Sky's approach to content – making it available when and where consumers want – has informed its ad strategy. "We don't want to push our ads everywhere," he said. "It has to be the right ad, in the right place – and we should be working to keep ads constantly relevant."
O'Donnell explored The Independent's move to digital-only, arguing that "digital-first" was "a fudge, because when you run a dual business, one element will get prioritised." In the future, he said, "content and personalisation will be absolutely key".
3. Data's a gold medal-winner
Data is at the heart of Britain's medal-winning Olympic strategy – as demonstrated in an insightful presentation from British Cycling. Performance coach Paul Manning explained how the body incorporated data into its training regime, tracking everything from nutrition, speed and fitness to wind resistance in the National Cycling Centre in Manchester. "We've basically turned our Manchester track into a laboratory," he said. However, Manning sounded a cautionary note, pointing out that "Delivery, management and input of data is only as good as the analysts, trainers and athletes who use it." He also warned of the danger of "drowning in information while starving for wisdom".
Olympic medallists Laura and Jason Kenny discussed how they use data to train. "My life in professional cycling is now all about numbers," said Laura Kenny. "It's helped me develop as a rider and work on specific key attributes instead of targeting the wrong ones."
4. Artificial intelligence will become a utility
In a wide-ranging discussion, Wired co-founder Kevin Kelly made some sweeping predictions for the future – and revealed how he keeps ahead of the curve.
The future of AI lies in cloud computing, he said – with AI set to become a resource that's available to all, like electricity.
"During the industrial revolution, we invented artificial power; that artificial power was distributed on the electrical grid," Kelly said. "Anyone who had access to that power could become an entrepreneur. AI will be a commodity served to us over the cloud. It will be a utility distributed everywhere."
Kelly's forecast for the next thousand startups is simple: "Take x, add AI."
5. Forget segmentation: understand customer mindsets
To better understand why customers make purchasing decisions – and when – Quantcast and Basis Research carried out a survey exploring the customer journey. Surveying 2,500 people globally, it covered long-term considerers (planning to make a purchase in six months) and actives (planning one within four weeks).
Crucially, the study revealed that customers enter the purchasing journey with a shortlist of brands – and that list is quickly pared down to just one or two; even in the consideration phase, 59% of consumers had already locked down their first choice.
"Brands need to be active before buyers are; [they] enter the space with a limited shortlist of brands," said Rune Mortensen, managing director of Basis Research.
The research revealed a disconnection between brand-building and direct response, with brands failing to capitalise on the power of advertising to convert on initial brand-building. "What is important is not seeing your brand and direct-response plans as separate," said James Cooper, head of demand generation at EE, in a discussion following the presentation.
Matt White
EMEA managing director
Quantcast
My key take-away
Consumers have become accustomed to the instant gratification of today's online marketplace. It has given them more control, allowing them to become fickle and demanding, with high expectations.
To compete in this growing, always-online world, successful businesses embrace new technologies to respond to consumers better, extending relationships far beyond product, and ultimately positioning themselves at the forefront of innovation in understanding real-time human behaviour across the digital world.
This year's Quantcast Supernova explored how to spark innovation and drive change by bringing together some of today's top experts from growing brands and major publishers, as well as leaders from the worlds of advertising, artificial intelligence and sports, to share their experiences and present the newest opportunities for using data to transform business strategies into the future.