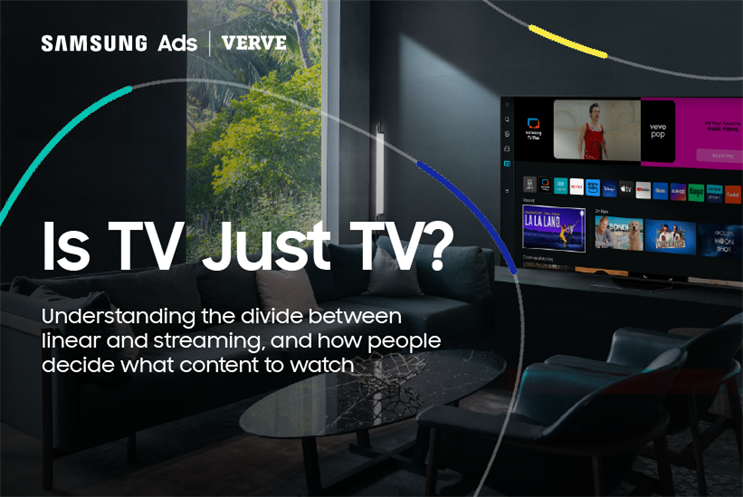 The massive breadth of choice available in both what to watch on TV and how to watch it can be overwhelming for viewers. The rise of Connected TV and streaming means viewers are now watching content across a variety of platforms, so audiences have become increasingly fragmented, making them even harder to reach for TV advertisers.
In order to shed light on viewing behaviour in 2023, Samsung Ads partnered with research company Verve to investigate the divide between linear and streaming TV, and understand how people decide what content to watch. The survey - which spanned more than 3,400 TV owners across the UK, Germany, Spain and Australia - focused on evolving viewing habits and expectations on the biggest screen in the home.
The survey shows that 35% of viewers feel frustrated after five minutes if they can't find something to watch. "This decision paralysis faced by viewers opens up huge opportunities for content marketers, enabling them to reach audiences in their moment of discovery with relevant content recommendations," says Antonia Faulkner, head of marketing & analytics, Europe & APAC, Samsung Ads.
Here are our top five takeaways from the report, revealing the latest perceptions and habits around watching TV:
1. It's about what you watch, not how you watch it
Reasons touted for watching linear versus streamed TV are very similar, which suggests that content rather than platform is the priority for viewers. The key takeaway for advertisers is that audiences want the best of both worlds — meaning advertisers need to reach audiences across both formats.
Content certainly seems king when it comes to free streaming. 64% of Smart TV owners say free ad-supported streaming television (FAST) content is improving and the platform is due to see a 30% increase in its viewership. This rise is second only to subscriptions viewing which is set to rise by 45%. At a time when many households are looking to cut costs and cut back on subscriptions, FAST services offer viewers access to a range of content including entertainment, sport and news, at no extra cost. The mix of scheduled and on-demand content offered on these free platforms complements existing linear and paid streaming services.
2. Streaming services are brand-safe environments
Brands that advertise on streaming services are seen as five times more modern than those in non-streaming environments. Younger audiences view ads on streaming services most favourably, with 47% of 18-24 year olds describing brands as modern for doing so, compared to 20% in 55-64 year-olds. For advertisers looking to reach streamers, this insight is good news: streaming services appear to be brand-safe environments. 
3. Access to video streaming apps is top priority when purchasing TVs
When it comes to purchasing their next television, survey respondents say the TV's smart capabilities will be the second most influential factor in their decision - 64% say it is a "very important" feature and 24% say it's "quite important". Among the smart capabilities available, access to video streaming apps was voted top priority.
4. Viewers go to their favourite streaming service when uncertain of what to watch
The survey asks viewers what their first port of call is when they turn on their TV and don't know exactly what they want to watch or where they want to watch it. 23% of TV owners say "I would go to my 'favourite' streaming service" - the most popular strategy. In second was "I would browse several streaming services" selected by 17% of respondents, closely followed by "I would flick through several TV channels", chosen by 15%. 
While streaming was the dominant choice for viewers looking for content to watch, the range of "go-to" responses suggests that all types of content are likely to be browsed when viewers don't know what to watch. One way for advertisers to facilitate the content discovery journey altogether is to advertise on TV home screens, which you can do on certain Smart TVs, like Samsung's.
5. Consumers want personalised recommendations when searching for what to watch next
The majority (55%) of TV owners say they use the "Recommended for you" section generated by streaming services when browsing for the next TV show or film to watch. "Recently added" and "By genre" were of next and equal popularity - 48% of survey respondents selected it. The results suggest that customers are looking for intelligent and bespoke content recommendations.
With so many linear channels and streaming services on offer, helping viewers discover quality content that is relevant for them is key. For advertisers, ad supported streaming environments offer exciting new opportunities to reach audiences outside of linear. Furthermore the digital nature of CTV advertising opens up new data sets for marketers to measure their total TV campaign and optimise across all formats. 
The results from Samsung Ads and Verve's survey show that whilst content is most important, viewers still have high expectations of the platforms on offer.
Click here to download the full report for free.