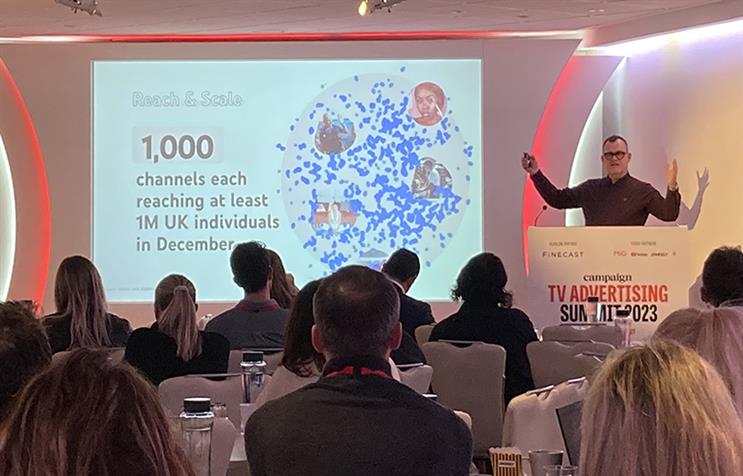 YouTube has been changing how people watch audio-visual content the moment it launched in 2005 – and the pace of change the platform now drives shows no sign of letting up. 
At Campaign's recent TV Advertising Summit, YouTube's UKI sales director Phil Miles outlined how viewing habits – and so content – are shifting on the platform. Here are the five ways advertisers can use this insight to reach their target audiences. 
1 People are asking: where can I watch it?
YouTube has significantly contributed to wide scale audience changes – the search box and connected TV apps, for instance, replaced the magazine TV guide and meant fewer people than ever watch 'live' TV. Miles said: "One thing to capture is the role of online search in how people find content they care about or are passionate about. The search term 'where to watch' has gone up 250% in the last two years. That desire to understand 'where can I watch something' is a real megatrend for consumers."
2 The creator economy is way bigger than you imagine
Miles showed that 55% of all ad revenue generated on YouTube goes to creators: in a study in partnership with Oxford Economics it found this contributes £1.4bn to UK GDP and supports 40,000 jobs in the UK. He said: "It makes us a significant part of the creator economy in the UK and it's something we're really proud of. We're supporting young British creators, often people who couldn't get commissioned in the traditional way, to actually build their audiences on YouTube, build a business." 
3 From viral videos to cultural moments
The scale of reach of some of the most successful creators on YouTube is significant – Amelia Dimoldenberg, for example, regularly gets 4m views for her Chicken Shop Date videos. Another group of creators, the Sidemen, get an average of 10m views per week. 
Miles said that advertisers are starting to realise the quality of content on YouTube, and are beginning to combine the platform with other channels in media plans. One 2022 Wrigley's campaign combining TV and YouTube delivered 54% reach to 18+ audience; 20% points of that was delivered on YouTube alone. "YouTube is delivering incremental reach – 10.7m people who would not have seen the ad if it wasn't on YouTube."
4 The power in broadcast partnerships
Brands and broadcasters are beginning to work with the channel in new ways. Sky TV, for example, puts the first episode of some of its biggest shows, such as House of Dragon and The Last of Us, on the platform for free in a bid to convert views into subscriptions. "Broadcasters are recognising that YouTube is an important distribution channel for their businesses," Miles said.
5 It's not just reach: it works
Miles highlighted how most of the advertising industry understands that YouTube delivers reach. "The biggest question is effectiveness – how effective is it versus other channels? The data on this is looking interesting." He pointed to a project with Vodafone. "They worked with Ebiquity and YouTube to identify and optimise the main drivers of their ROI. What they found was they got a 125% increase in YouTube return on investment, and a 700% increase in YouTube-related sales on a year-on-year basis."
Finally, YouTube is really everywhere. It's viewed on connected TVs, more so than mobile or laptop screens. "We're moving to a scenario where the TV is our first screen in the UK," Miles said. 
Nearly 30m people now watch YouTube on their TVs in a single month, and 50% of ads impressions are now served on TV screens. In one 2022 campaign for the chocolate brand, Celebrations, YouTube delivered 11% points of incremental reach on connected TV screens only – adding significantly to the TV campaign. 
Miles' discussion showed that brands are allocating spend because audiences are allocating time in a huge variety of ways. They've both come a long way since the mid-noughties with the only constant being change.