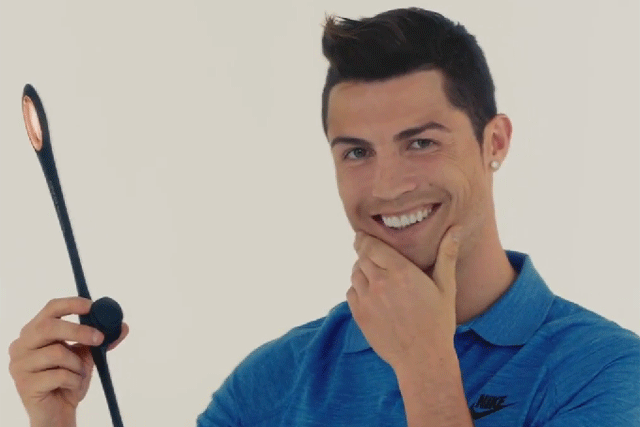 Danepak, featuring Peter Schmeichel
Agency: DLKW Lowe (then Delaney Lund Knox Warren & Partners)
Creatives: Malcolm Green and Gary Betts
The reason DLKW Lowe wanted Peter Schmeichel - one of the greatest and most intimidating goal keepers of all time - to star in an ad for Danepak was because he was Danish and looked a bit like the butcher on the product's packet. Sound logic but the results were surreal.
Malcolm Green says Schmeichel took everything in good humour and even started to get enthusiastic about the singing.
The soundtrack for the ad was originally supposed to be Benny Hill's Earnie, but the deceased comedian's estate would not release the track for any amount of money.
Instead, Danepak used a rewritten version of George Formby's The Window Cleaner (more commonly known as When I'm Cleaning Windows).

Tokyo Beauty Centre, featuring David and Victoria Beckham
Agency: Hakkuhodo, Tokyo
Director: Brian Lai
Production: Tohoku-Shinsha, Tokyo
This spot, for Japan's Tokyo Beauty Centre, is not only naff but frames David Beckham like a Messiah-like way, which is unsettling, particularly when combined with the Smashing Pumpkins' earnest ballad about God being into rock music.

Pao Facial Fitness, featuring Cristiano Ronaldo
Agency: Unknown
Released: August 2014
In fairness to Cristiano Ronaldo, this ad is not odd. It is about as normal as a commercial for Pao's facial exerciser could ever be.
It shows Ronaldo kicking the ball a few times and then demonstrating the product. Textbook. But Pao's product itself is so weird that this ad could not be omitted from the list.
Being less than a month old, the ad also serves as to remind us that strange product endorsements are by no means a thing of a past for footballers.

Bama, featuring John Arne Riise, Morton Gamst Pedersen and Erik Huseklepp
Agency: Alle Gutta
Copywriter: Ingebrigt Steen-Jensen
This ad, for a Norwegian fruit seller, shows Riise and Pedersen informing their Danish teammate Erik Huseklepp about the benefits of fruit over pick 'n' mix through the medium of rap
A sensible message with an absurd delivery.

SoftBank, featuring Shinji Kagwa
Agency: Dentsu
Production company: Geek Pictures
Even if this ad was in English, it would still be no more comprehensible.
It is, hands down, the strangest ad ever to feature a footballer. What any of it has to do telecommunications (that's what SoftBank does, by the way) is a mystery.