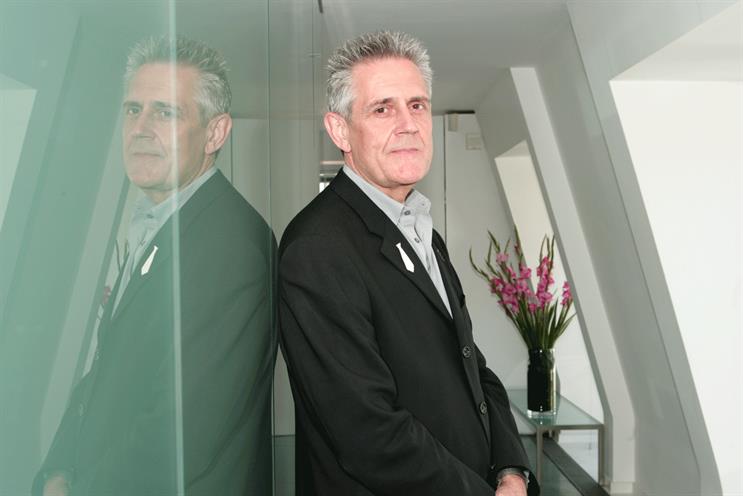 For me, advertising is a team game, like football. When I was younger, I was just a player – all I had to do was concentrate on how well I played. But what I really wanted to be was the team manager (creative director).That means I didn't have to score the goals, but I did have to put the team together that made the goals happen. So all my favourite ads are team ads. Here are some.

Dave Trott is the chairman of The Gate London


1
Courage

Gercha

1980

One Sunday night, I was listening to the radio while painting the spare room.

The DJ Charlie Gillett played a sound I hadn't heard before: cockney pub-piano crossed with punk.

I thought Chas & Dave would be perfect for beer.

John Webster was working on a brief for Courage bitter.

I played John the track – he loved it. I wrote the script.

John had a book on his desk: pub photographs from the 19th century.

All I had to do was sit back and let John make me look good.

You could sit a statue in a room with John and it would come out as an award-winning copywriter.
2
LWT
1982
Mike Gold had seen a report about communist China on the news.
Newspapers weren't allowed so, once a week, everyone would stand around waiting for a government newssheet to be pasted to the same spot on the village wall.
Mike said: "Why don't we do that with posters for LWT?" Change the poster in exactly the same spot every week. People will be waiting to see the new one.
So we ended up doing about 70 posters, week in, week out.
What no-one ever spotted was that they only ran outside advertising agencies, because it was a trade campaign.
Gordon Smith got all the youngsters working on them: Paul Grubb, Nick Wray, Pete Gatley, Dave Cook, Chris Bardsley, Dave Waters, Mary Wear, Steve Henry, Damon Collins, Axel Chaldecott, Tina Morgan, John Pallant, Sam Hurford, Mick Owen, Jan van Mesdag, Neil Sullivan, Gordon Graham, John Fisher and Andy Archer.
What was it that Alan Hansen said about "you can't win anything with kids"?
3
Holsten Pils
1984
Holsten Pils was a premium beer, so it needed premium humour.
Mike Greenlees said: "What about that film you sent everyone to see: Steve Martin's Dead Men Don't Wear Plaid?"
It was a great technique, dead movie stars talking to a live presenter, but none of us could make it work.
Until Steve Henry and Axel Chaldecott wrote some scripts. Steve is one of the best writers (with a capital W) I've worked with.
No wonder he got a double-first in English from Oxbridge.
Di Croll got permission for the ads to run without us having to pay the stars, whom we couldn't have afforded.
After she did it, they changed the law.
Again, I was smart enough to let some clever people make me look good.
4
Toshiba
1984
In "brown goods" (technology), most products had the same features. The difference was the brand and whether you had heard of it. Sony had 30 per cent awareness; everyone else had 2 per cent. This was because all South-East Asian brands sounded the same to English ears: HitachiSansui­YamahaSanyoAkaiSamsung. We had to find a way to separate Toshiba out, to anglicise it.
When I was young, my uncles used to call me son, boy or tosh. So I knew "Tosh" would fit into the language. Alexei Sayle had a song called 'Ullo John! Gotta New Motor?. But research said his voice was too shrill, so we got Ian Dury. Our very brave client asked his cleaning lady what she thought. She said: "Ooh, yes, that's a nice tune, that'll catch on." And, within six weeks, Toshiba had 30 per cent awareness – the same as Sony.
5
Ariston
1988
Brown goods are bought by men, but "white goods" (fridges, washing machines) are bought by women. Women don't want high-tech, they want reliability.
So we had to claim "reliable" and, as Ariston was being launched, it was crucial to get the name remembered.
Dave Cook and Dave Waters found a track called Da Da Da entirely in German by a group called Trio. They wrote "Ariston and on and on and on and on…" to that.
My contribution was in approving it and getting out of the way.
A while later, Maggie Thatcher quoted that campaign outside No10 (on News At Ten), saying she would go on and on and on and on.
That's millions of pounds of free media. That's "viral" years before YouTube or Facebook. When advertising understood that it was ideas that went viral, not just the latest technology.
6
Third world debt
1994
Third world debt kills five million children a year. The result of the banks lending billions of pounds that can't be repaid.
That debt needed to be cancelled. But how to get the message into the banks?
There is no media inside the banks – no posters, no radio – and, anyway, we had no money.
Then we thought: hang on, that's it – money. The media the banks have lots of is paper, in the form of money.
We could get little printing kits from Ryman and stamp our message on money. That's considered defacing currency, so it has to be taken out of circulation. To do that, they had to fill in lots of forms, repeating our message lots of times.
So every message we wrote replicated itself many times throughout the bank. Working its way around, inside the system.
The banks have now divested themselves of their third world debt.