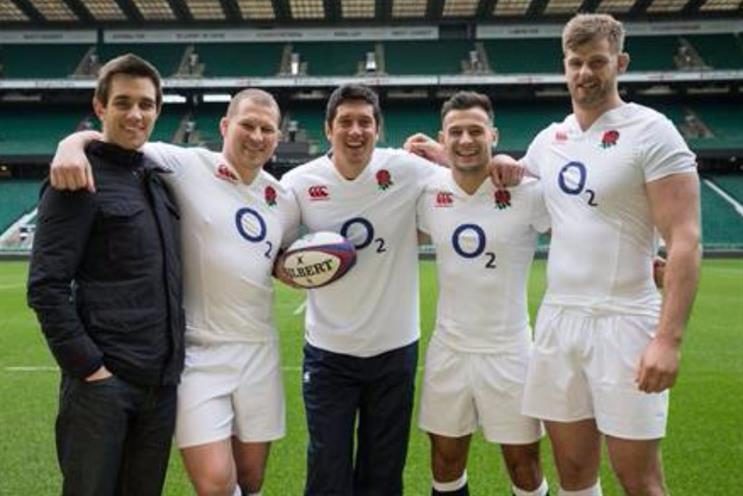 Brands including O2 and Guinness are entering the fray once again as the northern hemisphere teams brush themselves off from a largely disappointing World Cup that resulted in England being the first ever host nation not to qualify for the knock-out stages.
O2's 'Wear the Rose' World Cup campaign featured bold creative that turned the England players into animated giants. Unfortunately, on the pitch the England players failed to live up to their animated counterparts, despite the huge show of support from fans.
Nevertheless, the tournament still captured the imagination of the public after minnows Japan lit the touchpaper for the tournament with their inspired win against South Africa.
Rugby World Cup impact
O2 head of sponsorship Gareth Griffiths revealed the brand has seen a huge surge in interest in its rugby activity since the World Cup, meaning this year's 6 Nations could be a particularly enticing prospect.
"We sell priority tickets for the England home games at Twickenham and last year they sold out in 45 minutes," says Griffiths. "We ran exactly the same campaign this year and they sold out in 60 seconds."
Not only has there been more interest in watching matches, but more people now want to play the sport.
The telecoms firm's touch rugby programme, O2 Touch, has recorded a 15% increase in participation sine the World Cup.
Guinness Europe marketing director Stephen O'Kelly also believes the World Cup has significantly grown interest in the sport.
"The impact of the World Cup is transformational in bringing new fans into the sport in Great Britain," says O'Kelly. "We expect lots of fans who are new to the game excited to see their teams in action again after a competitive and bruising couple of months."
O2 will continue with the 'Wear the Rose' theme for its 6 Nations marketing, but will evolve creative to focus more on the fans.
"We have taken a real fan focus for the 6 Nations," says Griffiths. "After what was a disappointing Rugby World Cup for England, what we saw was the strength of the fans and we want to celebrate that for this particular 6 Nations."
O2's World Cup campaign beat its targets by achieving 5.4m 'acts of support' from fans despite England crashing out early, which begs the question of how much better it would have performed had England progressed further.
Steve Martin, chief executive at M&C Saatchi Sport & Entertainment, believes the closeness of this year's 6 Nations to the World Cup opens opportunities to brands involved with rugby sponsorship.
"There is no question brand equity is built across Rugby World Cup and the major sporting events and that is why continuity is very important," says Martin. "O2 have a lot of equity going into the 6 Nations."
Tim Crow, chief executive of Synergy Sponsorship, also believes the World Cup will have an impact on the 6 Nations, but this will be relatively limited due to the nature of the latter tournament.
"There will be an echo from the Rugby World Cup but I think that will go away pretty quickly because the event lives on its own," says Crow. "It was not ideal the host nation went out early but I do not think that will have any effect on the 6 Nations."
ITV coverage ushers in first ad breaks
What is perhaps more likely to have a greater impact than the World Cup legacy is the fact the 6 Nations is no longer airing just on the BBC after ITV was awarded the rights to air half the matches.
The BBC has the rights to the home matches of Wales, Scotland and France, and ITV will air England, Ireland and Italy home matches. Peugeot will be the launch sponsor of ITV's 6 Nations coverage after it signed a two-year sponsorship deal with the broadcaster.
Matches on ITV will also allow non-sponsor brands to get in on the action with ad spots during matches.
Crow says there is "no question" ad breaks will have a negative effect on sponsorship because it "increases brand clutter".
Advertising during the 6 Nations is an enticing prospect for brands because the games pull in impressively large audiences. Last year's finale between England and France had a record-breaking peak audience of 9.63m.
"It is a really good opportunity to get to a premium audience and it is quite a hard audience to get to," says Martin. "Commercially I think it will be very good for ITV and I know they are very excited about it and are putting a lot into it in terms of the production."
Nevertheless, O2 has decided to stay away from TV ads for the 6 Nations because it believes its branding on the England shirts gives it all the TV exposure it needs. During the World Cup O2 opted to advertise during the games because the tournament organiser does not allow teams to display sponsors on their shirts.
"We think it being broadcast on ITV is exciting because it freshens things up but it does not really influence how we activate our sponsorship," says Griffiths.
Instead O2 is focusing on digital marketing activity, a media partnership and out-of-home marketing for its 6 Nations activation
Activity will include an evolution of its 'O2 Inside Line' behind-the-scenes online show, which will now include a podcast for the time and Instagram activity.
O2 has also brought in Vernon Kaye to co-present with Sky Sports presenter Alex Payne as it seeks to improve the O2 Inside Line format aimed at fans.
Guinness, which ran a high profile TV ad campaign featuring Wales' former rugby captain Gareth Thomas during the World Cup, appears to be focusing its efforts on digital media.
O'Kelly says the brand will run a "heavy weight digital media plan" across the tournament featuring rugby legends Jonny Wilkinson, Shane Williams, Bill McLaren and the Munster team of 1978.
A Guinness spokeswoman could not confirm if the brand will advertise during 6 Nations matches, but hinted any potential activity would focus on its John Hammond campaign.
Splitting broadcasts
There are slight question marks hanging over taking out ad spots during the coverage because it is still not clear how the 6 Nations matches being split will affect the audiences.
"With split broadcast the audience sometimes find games hard to find and you have seen that with Sky and BT before where they have shared rights," says Martin. "It will be interesting how they [BBC and ITV] dovetail each other. It is important both broadcasters help fuel the continuity and promote the whole thing rather than get into a massive competitive scenario."
Crow believes the competition will test the BBC's mettle and consequently expects the BBC to "evolve their coverage and promote the tournament much more than they have previously".
A combination between an increased rugby fan base after the World Cup and complementary coverage by ITV and the BBC could turn the 6 Nations stratospheric.
This would leave sponsor brands such as O2 and Guinness and any other savvy non-sponsor brands with an easy opportunity for a conversion.