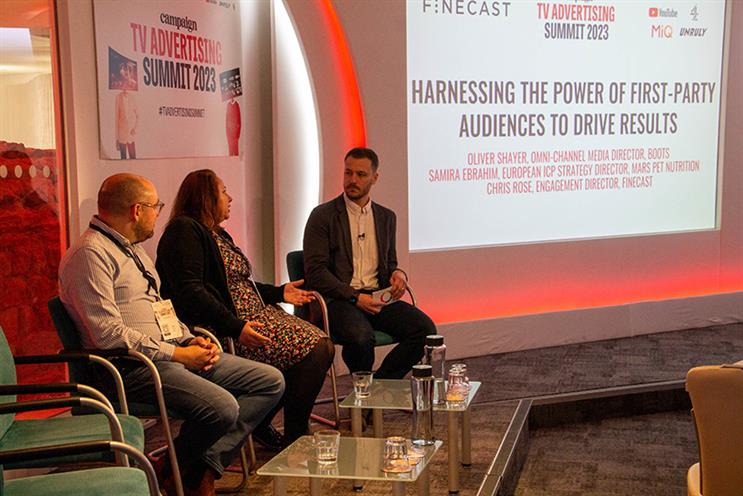 From the low-hanging fruit to manageable scaling, owned data and addressable TV platforms will deliver many advantages for brands. As Finecast's engagement director Chris Rose said at Campaign's recent TV Advertising Summit: "First party data is obviously an increasingly important commodity for brands, given all the challenges we're facing at the moment." 
He was speaking at Campaign TV Ad Summit, alongside Boots' omni-media director Oliver Shayer and Mars Petcare's European ICP strategy director Samira Ebrahim. They discussed the seven benefits they've seen – and gave advice for how to best approach the use of this increasingly powerful marketing mixture. 
1. Low hanging fruit is easily spotted
Ebrahim, who works for Mars' pet brands such as Whiskas, Dreamies and Pedigree, said one of the best parts of working with first-party data was being able to reduce wasted spending immediately. "In the UK, about 50% of people own a pet, so there's a significant amount of wastage in traditional buys using broad demographics. So the first thing we do is use our data to confirm if someone has a cat or a dog because then we're actually talking to the right people."
2. Benefits spread across the channels
Both Shayer and Ebrahim spoke of boosts to store sales following the use of addressable TV and first-party data. Shayer said adding a layer of addressability – and consequential clear measurement of success – to both stores and online sales had been a real driver of adoption for Boots. Ebrahim said that some Mars campaigns drove incremental increases in retailer footfall, which had converted into increased sales. 
3. Significant returns
Boots achieved a return of four times its investment by using addressability, and Shayer also spoke of a strong brand effect – having targeted people with the correct messaging for them, brand perception measures were boosted. 
4. Broadening the reach 
Shayer said reaching new customers and talking to new audiences is a major benefit of TV addressability. "It gives us access to audiences we wanted to reach, particularly customers we may not have talked to. We saw the ability to reach audiences who had gone away, or newer audiences as well." 
5. Lasering in on that key customer-journey moment
Ebrahim says addressability now sits at the core of Mars' media vision, which enables her to focus on essential times in the pet parent customer journey. "We're moving from focusing on efficiency of buys into becoming as effective as possible, making sure that not only have we got the right audience, but we're creating the best content possible that suits the moment we are trying to help them with."
6. It's easy to start small
Both Ebrahim and Shayer advised starting small and building proof points. "You don't need to spend and start really big. You can get your proof points with smaller campaigns, which is really helpful when you're trying to prove something new." She said results from early test-and-learn experiments can be significant. "We needed proof points and the brilliant thing about addressable TV is that straight away you can build evidence points. It was a no-brainer for us to get proof that a data strategy makes sense for us as a business."
Both advised starting with clear objectives or hypotheses, and a clear understanding of what the business wants to achieve or get from the campaign. 
7. Let it grow
Two years ago, Shayer said five to 10% of Boots' activity involved first party data; today about 50% of campaigns are running with it. The industry has evolved to allow this to happen, and technology has also become more advanced. "The key thing for us is that it's consumer centricity that drives it. It's not going away and will grow as part of our mix. It's definitely something I would start doing, you can test and learn quite easily, and the results can be quite significant," Shayer said.