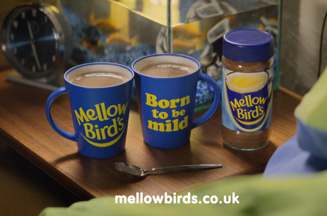 Kraft UK, which also owns the Kenco, Maxwell House, Carte Noire and Tassimo coffee brands, will back this month's relaunch with an integrated campaign. The creative plays on 'mild' euphemisms such as: 'Do you want to come up and feed my goldfish?', with the strapline 'Born to be mild'.
The campaign is being handled by Work Club, which picked up the business without a pitch earlier this year.
The brand has not been actively marketed since the 80s and early 90s, when ads featured the straplines 'For Mellow moments', 'Mellow roasted for more flavour' and 'Mellow Bird's will make you smile'.
TV ads will air on Channel 4 on university campuses via the student-targeted Freewire TV service before potentially being rolled out nationwide.
Online display ads will drive consumers to a Mellow Bird's-branded eBay store, which will sell not only the coffee, but also blue-and-yellow themed bedding, music and branded mugs, all priced £1.89 - the cost of the jar of coffee - to attract bargain-hungry consumers.
Kraft will also place inter-active posters in university campus bar toilets and run a week of street sampling and experiential activity promoting the brand.