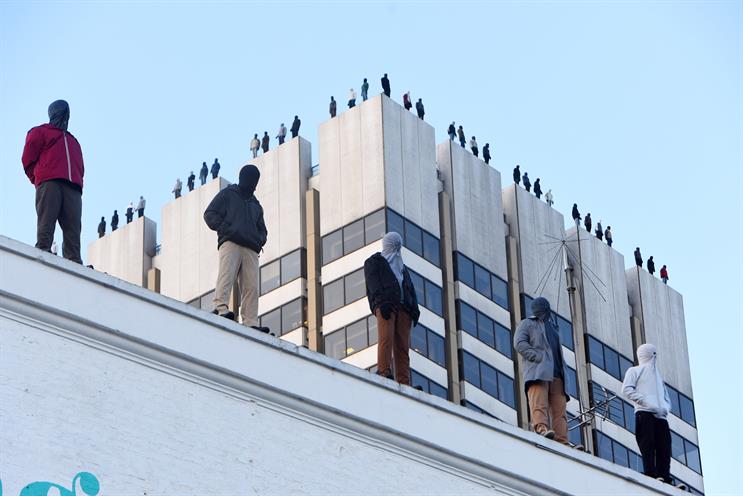 "Project 84" aimed to raise awareness of the number of men who take their own life every week in the UK. The campaign was created by Adam & Eve/DDB.
Ben Hawley, campaigns director at Calm (Campaign Against Living Miserably), told the Event 360 forum in London yesterday that the aim of the work in March was to "stop people in their tracks", and to add some depth to the message the charity asked the bereaved families to share their stories.
He added that the decision to work with Mark Jenkins came from finding someone who could make something that looks human. Jenkins worked with the families to create the sculptors using his signature tape casting technique.
With all this in place, Calm looked for a suitable platform to help make the biggest noise. "The depth we needed was having a platform to tell the stories, we were conscious about having a number and not telling the story behind it," he said. "So we needed the stories to come to life."
Calm approached ITV, which wanted to use the stories on its biggest daytime TV shows This Morning and Loose Women, with three days of coverage of male suicide. The media owner also worked with Calm to install the statues on top of its building, and pull together footage of the statues using drones.
In searching for a partner for a financial investment, Hawley said that the charity wanted to approach a brand with similar values. "We wanted to find a brand with an alignment with ours," he explained. "Harry's grooming is a charitable brand and tackles cultural change. They are very much progressive and think about the world in a different way."
Once Calm was happy it could make a big enough splash, it felt that there was a need for a tangible output – something the public could do to support the cause. This came in partnering with Change.org to set up a petition to put pressure on the government to make a real change.
As a result of the campaign, Calm met 80% of user sign up of the previous year in just three days, 36,000 Twitter mentions, and 2.1 billion pieces of earned media. There are also now 256,000 signatures on the petition and Hawley said that Calm will take this to Number 10.