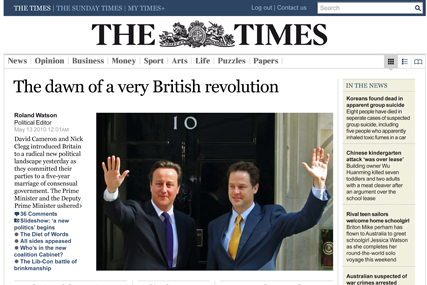 Another 4% said they would pay £1 for a day's access, which is the other price point News International will introduce along with paywalls around its online content in the next month.
The research, conducted by Entertainment Media Research on behalf of media law firm Wiggin, found that it was not just The Times that the public would be unwilling to pay for.
Give or take one or two percentage points, the proportion unwilling to pay was the same for The Guardian, The Daily Telegraph, Daily Mail and The Independent.
Interestingly in the case of the Financial Times, which has attracted paying subscribers, 3% said they would pay £1 per week and 4% said they would pay £2 per week. The site charges either £171 or £260 per year depending on the extent of access it offers.
The Sun, which is expected to be next title News International will put behind a paywall, got the same response as the FT.
The survey also asked respondents what they thought was a reasonable price to pay for a week's unlimited access to a 'respectable' newspaper website, offering a series of price points between 50p and £10 per week.
£1 a week was the only price point which more people thought reasonable (52%) than unreasonable (48%). Only 41% of respondents thought that £2 was a reasonable price to pay,
The research also looked into the magazine market. Findings suggested that consumers are far from relinquishing paper magazines in favour of their digital counterparts, with only 4% of men and women saying they only wanted online magazines.
The data showed that 43% of the sample saying they still wanted paper magazines, 46% saying that they would prefer to read paper magazines but with access to additional online content.
Paper-only magazines are more popular among over-45 males and females over 35. Online-only mags proved unsurprisingly more popular with teenage girls and males under 25.
The research was conducted amongst 1,592 UK respondents representing the national demographic.
Earlier this week News International's commercial chief, Paul Hayes, said he would be "in the shit" if the group's paywall plans did not work.