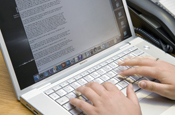 The decline in advertising pitches, although relatively small, with 289 reported advertising reviews in 2008 compared with 308 in 2007, saw a number of the highest-value pitches, including Camelot and Waitrose, conclude with the incumbent retaining the business.

Meanwhile, digital pitches increased by 19 per cent, with 119 reviews, compared with 100 the previous year.

After a sharp decline in direct marketing reviews in 2007, the sector displayed a recovery last year with an increase in pitches of 10.4 per cent, and integrated pitches up 15.8 per cent.

The media sector also fared well in 2008 with full-service media reviews increasing by 13 per cent.

The largest of these tended to be global or international pitches such as Dell, but there were 11 UK-only media pitches valued at more than £20 million, compared with eight in 2007.

Kerry Glazer, the chief executive of the AAR, said: "The continued rise in the number of digital reviews will not be surprising to anyone, but it is good to see more stability in the 'traditional' DM sector."