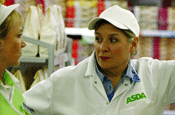 AAR figures comparing 2007 with 2006 showed the number of reported direct marketing pitches dropped by a massive 40.7 per cent, from 113 reviews in 2006, to just 67 in 2007.
However, although the overall number dropped, some significant clients, including British Gas, BSkyB, Land Rover, Lloyds TSB and Orange, put their direct marketing up for pitch during the course of the year.
Digital pitches continued to rise, with a 30.1 per cent increase on last year. There were 95 reviews reported in 2007, compared with 73 in 2006.
Over the same period, advertising reviews showed a slight decrease of 2.5 per cent, from 316 in 2006 to 308
in 2007.
However, those accounts that did review tended to be more sizeable than in the
previous year, with 13 £20 million-plus accounts going up for pitch, including 3, Asda, ITV, Toyota and Waitrose, compared with just 11 the previous year.
The number of media planning and buying reviews remained relatively stable, with 138 reviews in 2007, compared with 136 in 2006.
Tony Spong, the head of DM, SP and integration at AAR, said: "Organic growth has, in fact, been very strong. Lots of digital pitches have been going on and, rather than repitching for a new agency, clients have stayed with their direct marketing agencies, which is why we have not seen a lot of reviews.
"DM agencies are not telling me they're not busy. It's just one of those phases."
Kerry Glazer, the chief executive at AAR, said: "My personal view is that clients are simply transferring budgets around as interest in the digital channel grows.
"I think growth is coming more from client curiosity and the confidence to exploit the opportunities that digital presents to them.
"Some direct marketing agencies have themselves got good digital arms and digital is part of the portfolio they are offering.
Direct marketing agencies don't seem to be overly concerned."