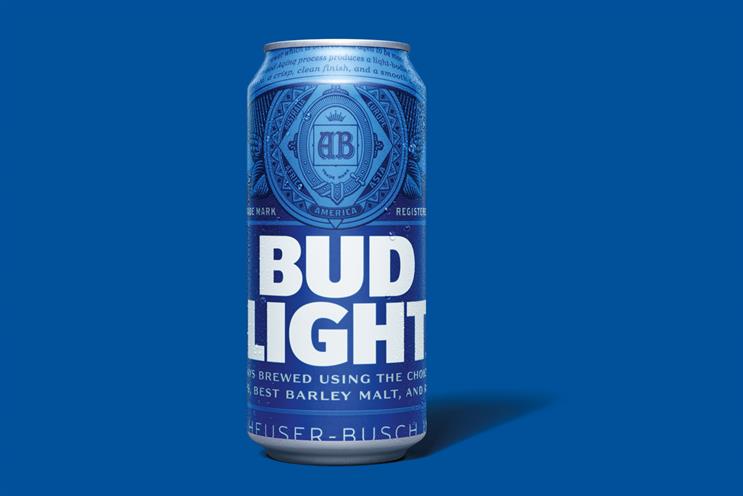 Launching in retailers this weekend, and in pubs from March, the brand will supported by a campaign from lead creative agency Wieden & Kennedy London across TV, digital out of home and social media, that aims to announce the arrival of the brand and introduce its personality.
"Bud Light is what we call the younger kid brother of Budweiser, with a bit more of a fun personality," said Andre Finamore, senior brand manager for Bud Light.
"You can expect to see a tone of voice that's youthful, light hearted, playful, easy going." He confirmed this meant it would shy away from the kind of bold humour and loud personality often employed by Budweiser.
The drink, said Finamore, was targeted at what he called "aspirers": largely 18- to 24-year-olds who are very urban, like premium brands, are interested in travel and are heavy social media users. He said this set the brand apart from most other lower-alcohol lagers – such as Carling and Foster's – and meant it was filling a gap in the market.
Bud Light was previously available in the UK from 1998 to 2000, but sales failed to take off. Amaral said that "a lot has changed since last time we tried to introduce the brand here."
The version being introduced here is just 3.5% alcohol (compared to 4.2% in the US) and could tap into the current trend for more moderate drinking.
"The functional proposition of Bud Light is something that is much more catered to the consumer now," said Finamore. "But from the brand point of view, we know that people are looking for brands with a cool and contemporary image."
Finamore denied that the launch was directly in response to the popularity of Coors Light, another US light beer that has seen sales boom in recent years on the back of an ad campaign featuring Jean-Claude Van Damme.
"Regardless of what's going on in the market, there's a massive indication that this is the time for Bud Light," said Finamore, pointing to the brand's consideration level among the target consumer group of 21%.
Nick Robinson, UK marketing director at AB InBev, added: "Our intention is to inject energy and excitement into the UK beer category and we believe Bud Light is perfectly placed to do so by responding to the evolving preferences of today's consumer.
"It is the most popular beer brand in the USA and is vastly popular amongst drinking-age millennials, who view it as the leading lager to accompany relaxation and bonding. A high proportion of UK consumers are already aware of Bud Light and its success stateside, and we are frequently asked when it will be made available here."