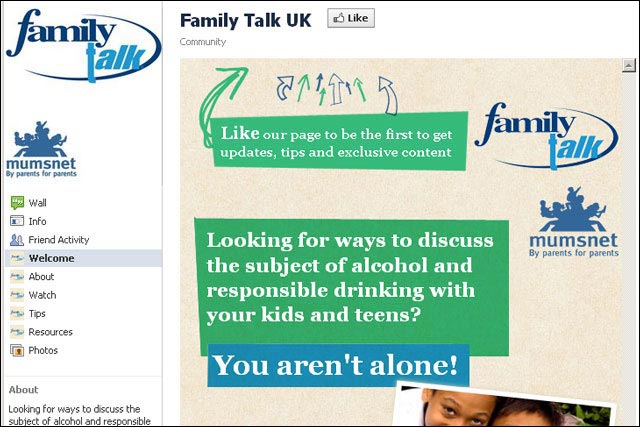 Family Talk, which went live on Facebook today (23 September), features advice from the Mumsnet community to help parents start the conversation about alcohol and responsible drinking.
AB InBev UK, which owns brands such as Stella Artois, hopes the new platform will help parents discuss the roles of alcohol and its effects, openly with their children or teenagers.
The company has also launched a press campaign to advertise its commitment to responsible drinking, using the strapline: "Our message in every bottle".
Research carried out by Populus showed that 87% of people thought the most useful resource for parents would be a website for parents to share tips and experiences of talking to children about alcohol.
The research found that 37% of people said the most respected source of advice for parents educating young people about adults, is other parents.
An open forum held by Mumsnet identified "Ten Top Tips" for parents to address the subject of alcohol with their children, such as: "Be open and honest"; "Try not to patronise teens", and "Most of all: reinforce your support for them".
Stuart MacFarlane, president of AB InBev UK, said: "We take our role as a responsible brewer extremely seriously. We work hard to play our part in encouraging responsible drinking, but we recognise that it is parents who have the greatest influence on their children's attitudes to alcohol.
"We also know that many parents find it difficult to talk about alcohol with their children. Through our Family Talk UK programme we are working with Mumsnet to create a collection of tips and videos to help parents start the conversation about alcohol and responsible drinking."
This week, major spirits brand owners, including Bacardi and Diageo, agreed an alliance to pre-empt incoming legislation on responsible marketing practices in social media.
They have created a set of self-regulatory guidelines for advertising on social media, including restricting Facebook users under 18 from accessing official alcohol brand pages.