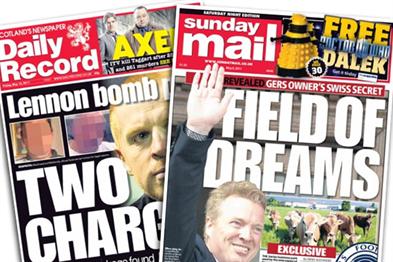 Those who've been following the debate in the US about the future of regional media will not be surprised about the findings of the Newspaper Society's latest research initiative in the UK, called Loving Local.
The research points out that people in Britain still, by and large, treasure their local media offerings. As in the US, however, that doesn't necessarily mean that the future is bright for regional media owners struggling to replace haemorrhaging print revenues with new sources of profitability.
New economy theorists have always had rather muddled views about what the digital revolution means for regional and local media - or, indeed, whether the very notions of regional and local have any real meaning any more.
For many futurologists, the central sublime beauty of the web is its likely transformative effect as a cultural unifier, a creator of one world; for others, the ultimate promise is that power will be devolved from the big, bad political and business monopolists into the hands of communities and, ultimately, individuals. Then, and only then, the utopian evangelists say, shall we all be truly free. Fans of cognitive dissonance will claim to believe both things at the same time.
But both tribes will tend to agree that, whether you're thinking global and acting local or you're merely thinking local, the big economic growth opportunities of the 21st century will come from targeting communities, whether virtual or geographical.
Unhappily, though, on both sides of the Atlantic, regional media concerns were already taking a battering before the downturn - even outfits with a more than decent record when it comes to embracing the online world. Naturally, the outlook remains challenging.
Research initiatives such as Loving Local, however, do seem to suggest that the future doesn't have to be entirely bleak.
1. The study, conducted by Crowd DNA, into the attitudes of a sample of 5,000 adults, found that the importance of community to people in Britain has increased following the recession. Eighty-one per cent of people agreed that the downturn has made supporting the local community more important and that local media plays a key role in stimulating pride in their local area. Ninety-three per cent of respondents said they liked companies that get involved in the local community and 84 per cent said they were more likely to buy brands that gave something back to the local community.
2. The study also provides evidence of the advertising effectiveness of local media. Sixty per cent of respondents took action (such as using a product or service or using a voucher or visiting a store) as a result of seeing an ad in local media. And people continue to spend their time and money locally. Eighty per cent of people spend at least half their time within five miles of their home and 76 per cent of people spend at least half their money within a similar radius. People are also more optimistic about issues at a local level. Seventy per cent of people believe their local area is improving, compared with a mere 32 per cent who believe the country is improving.
3. These respondents are clearly more chipper than the publishers who serve them. Take last week's news alone: 90 job losses at Trinity Mirror's Scottish titles; a compulsory redundancy programme by Midland News Association at its Wolverhampton-based Express & Star; and the announcement by Johnston Press of the closure of several of its newspaper offices in the Midlands.
4. The nature of the struggle is arguably captured no more clearly than at Northcliffe Media. In last month's interim results, Northcliffe revealed that, in the six months to April, revenues were down 10 per cent year on year and profitability had fallen by 35 per cent. During that six-month period, it reduced staffing levels by more than 10 per cent. Northcliffe admitted it regarded ad revenue prospects as less than promising; but, last week, it announced the relaunch of 26 websites and the introduction of new packages enabling classified advertisers to make the most of both onand offline outlets. It is also revamping its efforts to market the strengths of local media to recruitment advertisers.
5. The most recent Advertising Association/Warc advertis-ing expenditure report, published in March, showed regional newspaper revenues for 2010 declined by 6.4 per cent year on year.
WHAT IT MEANS FOR ...
Media owners
- The good news is that local media assets still command impressive amounts of loyalty. The bad news is that they don't appear to be making the most of that.
- Some commentators in the US (especially those who argue that the future is "hyper-local") berate traditional regional media companies for not grabbing the huge opportunity that, they argue, has been staring them in the face. They argue that the future is about evolving beyond the traditional notion of classified advertising and plugging into new notions of local community markets and trading initiatives.
- They're continuing to lose out to recruitment and property web specialists. And if they don't get their act together, they will also lose out to new locally focused businesses along the lines of Groupon.
Advertisers
- Advertisers and their agencies say they'd like to see regional media owners hold their nerve. They applaud restructuring efforts but argue that publishers should remember how they became successful in the first place. In some of the restructuring we've seen recently, for instance, the vast majority of redundancies have been on the editorial side.
- That's happened at a time of rising newsprint costs, which has meant that publishers have had to increase yields, so they print more ads, which means there's more clutter.
- But Fiona Hodges, the regional director at MEC, says she's optimistic about the future: "We're not about to see the regional and local press disappear. Yes, digital dominates current thinking, but newspapers will continue to have a role. People like what they know - and what they have grown up with."