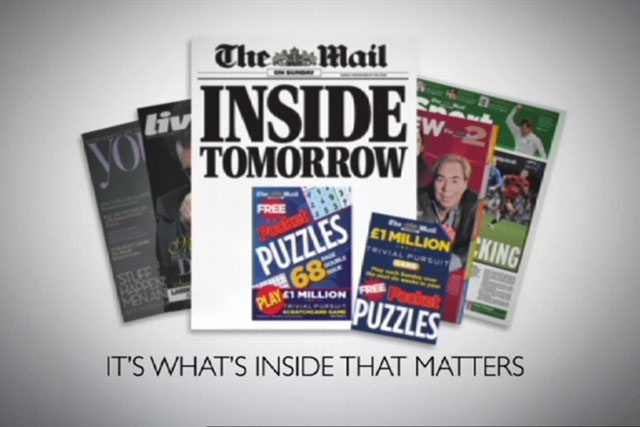 Some of us had just about started to believe that it was safe to buy a newspaper without a slightly naff CD falling out. And then along comes The Mail on Sunday with its Neil Diamond surprise inside.
How very perplexing. Because the Diamond promotion last weekend coincided with the newspaper's attempts to evolve a far more effective and sustainable promotional philosophy. And, after all, wasn't it The Mail on Sunday that tested the free CD (and DVD, come to that) wheeze to destruction? The killer promotion, famously, was its audacious move in July 2007 to offer Prince's much-anticipated new album Planet Earth, exclusively, as a free promo.
It was billed at the time as the "greatest newspaper giveaway ever". And indeed it was - it added 600,000 to The Mail on Sunday's circulation, then averaging around 2.3 million. The uplift, though, was transitory. The next week, the paper, like almost all of its rivals, was back to managing decline.
So much time, energy and expense; so little long-term return. But back then, everyone was at it - and it got to the stage that you'd feel cheated if you couldn't get a free album or film in the newsagent's almost every day. It took an instance of sheer folie de grandeur to break (or so we thought) the vicious cycle.
For many, the Planet Earth initiative confirmed what they thought they already knew - that such promotions were encouraging bad habits, making people more promiscuous in their purchasing patterns while devaluing a newspaper's more enduring strengths, such as the quality of its editorial product.
CD and DVD promos haven't entirely disappeared - as, indeed, last week's Diamond frenzy tends to show. The promotion was backed by a TV burst that ran, tellingly, on the sorts of channels that also tend to carry campaigns for stairlifts, orthopaedic beds and repeat prescription services aimed at senior citizens. Diamond's career, let it be remembered, peaked in the early 70s - a whole decade before The Mail on Sunday had even been launched.
But then that's why The Mail on Sunday's other initiative last weekend was so compellingly interesting - it's not just rather more sophisticated, it could actually amount to something far more forward-looking.
1. Last weekend, it began trialling a new rewards initiative in Scotland - and it will soon be rolled out south of the border. Readers who buy both the Daily Mail and The Mail on Sunday (combined purchase price: £2.30) will be able to received a Tesco voucher worth £5 - and future rewards vouchers will be redeemable from some of the biggest brands on the high street, including Tesco, Morrisons, Waitrose, John Lewis, BP, Boots, Sainsbury's, WHSmith, Pizza Express, Vue Cinemas, Odeon and Cineworld. This is expected to be the start of a long-term commitment, but the "gearing" (the length of the purchase commitment versus the level of reward) may alter as the scheme evolves. Data capture is also expected to be a major factor, with consumers being asked to sign up on a Mail Online microsite.
2. The launch of the scheme coincides with a concerted effort, led by Marcus Rich, the managing director of The Mail on Sunday, to sell the benefits of Sunday as a now underestimated marketing environment.
A new presentation ("Say it on a Sunday") stresses how Sundays have become "more precious than ever", has more rituals, and is the day when people spend the most time at home. It argues that most people's lives are dominated by work-oriented things during the weekday and Saturdays have become just as "task-oriented" as a weekday, with people catching up on the activities they'd been unable to complete in the week.
Rich says: "The mood of a reader on a Sunday is different and unique. They receive and react to communication in a very different way to Monday and Saturday."
3. The Mail on Sunday's most recent headline Audit Bureau of Circulations figure was 1.94 million, down 2 per cent year on year. Its most recent editorial revamp came in January 2010 and saw Live, the paper's men's lifestyle, gadgets and TV listings supplement, given a slicker look. Sunday 2 was also developed as a more focused review section and the football pages were expanded into a 24-page Sport on Sunday pull-out.
WHAT IT MEANS FOR ...
ADVERTISERS
- Press planners and buyers say that Sunday newspapers have had an exceptionally difficult time of it recently, so any effort to remind everyone about what makes Sundays special is long overdue.
- As Neil Allen, the press trading director at Starcom MediaVest Group, puts it: "It's great to see someone actually doing something to market the medium in this way. And I think the rewards scheme is a cracking idea - and I suspect it could be successful. If it is, then it could be extended beyond the weekend."
- Other buyers point out that data The Mail on Sunday can capture on the microsite could become an important resource - one that may become the basis for further partnerships with a wide spectrum of advertisers.
DAILY MAIL & GENERAL TRUST
- Five years ago, The Mail on Sunday delivered a third of the group's weekly national newspaper ad revenues. That's now down to 28 per cent. A revival here would deliver a welcome boost to group profitability.
NEWSPAPER PUBLISHERS
- In an ideal world, The Mail on Sunday's presentation about the magic of the week's least-cluttered day would have been undertaken by the Newspaper Marketing Agency, for the benefit of all.
- But, if the paper's initiative succeeds in making planners and buyers re-evaluate Sunday - and the weekend in general - rival publishers may yet benefit.
- Knowing how generous in spirit they tend to be, perhaps they will be moved to write thank-you letters to Rich and to Guy Zitter, the managing director of Mail Newspapers.