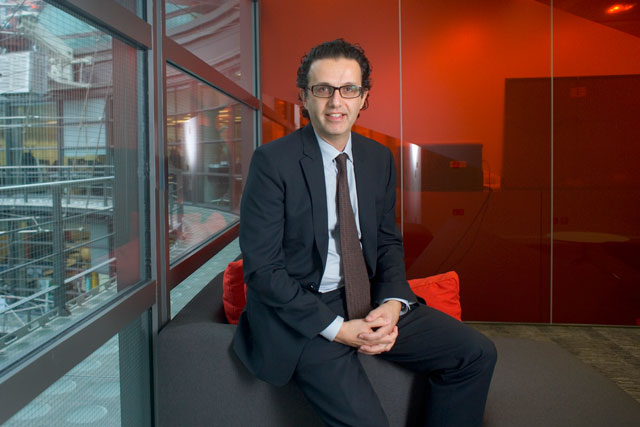 It probably won't surprise you to hear that I'm on the side of the pubic service broadcasters (PSB) who still take the bulk of creative risk, and provide the scheduling and marketing so that producers have the space in which to develop their work and to have it distributed globally.
I also believe that the enlightened policy interventions of public service broadcasting in recent decades remain absolutely key to what makes British content creation so great today. We have a very deliberate plurality of models, ranging from the public service, publicly funded BBC to the more purely commercial ITV and Channel 5, with the hybrid Channel 4 as the inbetweener. If properly looked after, I think it is these interventions that will stand the UK in great stead in the future.

So, my main message to today's policy makers – and I'm delighted that both the Secretary of State and her Labour shadow will be here to talk to us – is that we cannot take the PSB model for granted. What we have did not arrive by accident: the PSBs are granted defined privileges in return for delivering defined social and economic benefits.

The central challenge for government is how to update these privileges to ensure that in the future, maximum investment can be directed towards content investment.

Three areas, for example, have been touched on in the recent DCMS discussion paper: EPG prominence, platform fees and DTT spectrum – and on each we are only partially reassured that the government intends to robustly defend the long term interest of content creation and universal access as opposed to the demands of the telecoms sector. Will prominence really mean prominence? And will DTT continue to be recognised as a vital means of providing cultural, social and economic benefits? And are there other ways of increasing investment – for example in our view looking at advertising minutage rules could provide a major boost?

But in one other area, our industry message has already been heard loud and clear by government: I'm delighted to share with you the news that an outline bid by Creative Skillset, for a major new mutual investment opportunity in training, is being taken to the next stage – something that will benefit all parts of the creative industries. Progress is now being made to the detailed bid stage and Creative Skillset needs all of us in the industry, in this room, to lend our support once again by re-affirming our commitment to this opportunity

But quite clearly, there are also things that we can – and should be doing ourselves - to innovate at both a creative and commercial level.

This is absolutely front and centre for Channel 4 so first I'd like to touch on the topical issue of how programmes are supplied to Channel 4 from the production sector.

When I arrived at Channel 4 three years ago, many smaller producers complained to me that the Channel was a closed shop working with a diminishing group of super-consolidated companies. Since then, via a series of initiatives centred around our Alpha Fund, we have significantly diversified our supply base and are spending less with the largest companies as a proportion of the total – working with 460 indies last year, over 90 of those being digital companies – a shift that during this long recession was an important one.

But in recent months it has been made clear that the Indy sector regards the quality and depth of relationships as important as the breadth and so, in addition to continually improving our working practices, which we are committed to doing, we are now thinking about a second phase of initiatives looking at how to strengthen the sustainability of the sector and help these smaller companies to grow. And it is growing from an initial start-up to a more sustainable business where the challenges lie for an increasing number of companies in this economy.

So we are now developing the idea of a new Channel 4 Growth Fund that would seek to directly invest into emergent companies. Distinctive to other forms of investment, this could provide growth capital and business advice to help fledgling companies become more sustainable. Of course our stakes in such companies would always have to be minor ones and they would have to be managed at some distance from our day to day commissioning process to maintain a level industry playing field. We have had some early discussions on how this could work in practice with our stakeholders and we sense there is a gap in the investment pipeline that we could usefully help to address.

At the last RTS Cambridge I also spoke about our plans at Channel 4 to connect more directly with our viewers by investing in a new kind of engagement strategy – one never tried before by a broadcaster. As of today Channel 4 has attracted 9 million individuals who are registered and engaging directly with us via 4oD. That's a very powerful new data platform in its own right and continues to grow. This strategy is helping us to support healthy digital growth as advertisers increasingly experiment with blending their customer data with ours to deliver measurably greater brand engagement. New marketing technologies are proliferating rapidly and globally and at Channel 4 we believe that TV has to innovate to compete in the future.

This week our plans move into a new phase as we begin trialing our mobile second screen app, 4 Now, exclusively to our registered viewers, which will further enrich the engagement layer with our content; and soon, we will integrate short-form content seamlessly to 4oD which is the growth area in the mobile space.

There are broader public benefits to our data strategy as well. By definition the internet tends to acquiesce to the wisdom of crowds, to amplify what is already known, to remake what is familiar, rather than providing platforms for all that is as yet unknown, unsaid or unchampioned. There is a new need for cultural counterweights in the system that provides 'algorithms of surprise' rather than recommendation and repetition.

Channel 4 is both a social enterprise and a highly trusted brand that now delivers personalisation in return for personal information. Our ultimate aim is to evolve this information exchange with our viewers into an innovative new way to support British creativity, enabling us to continue taking creative risks at breadth and scale and to the degree that the market would not choose to make.

So that's the overview from Horseferry Road. You may well disagree with some of what I have said – but I call on you to continue thinking about the questions we have posed - who is going to play the biggest role in content creation? And whose side are you on?