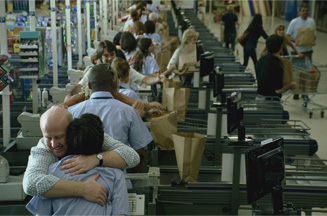 'Hugs' envisions a world where the only currency is human kindness. Shoppers are seen paying for their groceries with a hug, and bus drivers receive kisses for their services.
The ads are to debut in art-house cinemas across the UK on 10 April, before being shown in mainstream cinemas after the Easter break. From 16 April, the adverts will be on topical news websites.
Mark Hamilton, head of marketing for vodkas at Pernod Ricard UK, said: 'The timing of our activity is especially poignant in the recessionary environment. Absolut seeks to stimulate discussion around unconventional views of the world that we hope will be influential amongst our target audience.'
'Hugs' follows Absolut's previous campaign, 'Protest', which showed rioters harmlessly fighting with pillows.