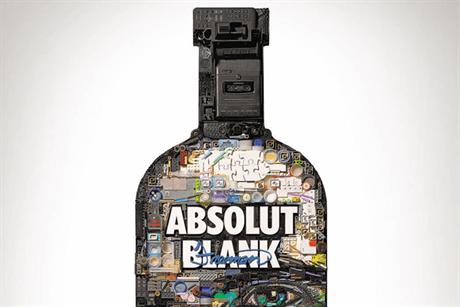 A statement from Absolut said that Sid Lee "will lead the development of creative work across advertising, branded content, digital and a significant body of experiential work".
However, TBWA said it remains on the Absolut roster and that it will continue to handle a considerable amount of the brand's advertising.
TBWA picked up the Absolut account shortly after launch and when the vodka was an unknown brand.
The agency made Absolut famous with a campaign based around the distinctive bottle shape, which launched in 1980, and is one of the longest running ever.
The first ad in the series had a halo and angel wings superimposed on the bottle and the line "Absolut perfection". This led to many other visual puns based around the bottle, with two-word headlines.
The Pernod Ricard brand's most recent advertising work included the "Absolut blank" campaign. Absolut signed up 18 emerging artists from across the globe to construct a work of art on an empty canvas cut to match the its bottle shape.
The work was the result of a creative partnership between Absolut and TBWA\Chiat\Day, New York.

Sid Lee will run the account from its Amsterdam office with its New York agency also playing a role in developing advertising.

Jonas Tåhlin, the vice-president of global marketing at the Absolut Company, said: "We look forward to working with Sid Lee, a trail-blazing agency specialising in creating holistic innovative brand experiences. Sid Lee shares our view on marketing, anchored in experiences. We want the brand to express itself through actions rather than words. It's extremely important to us to constantly evolve and push our boundaries.: