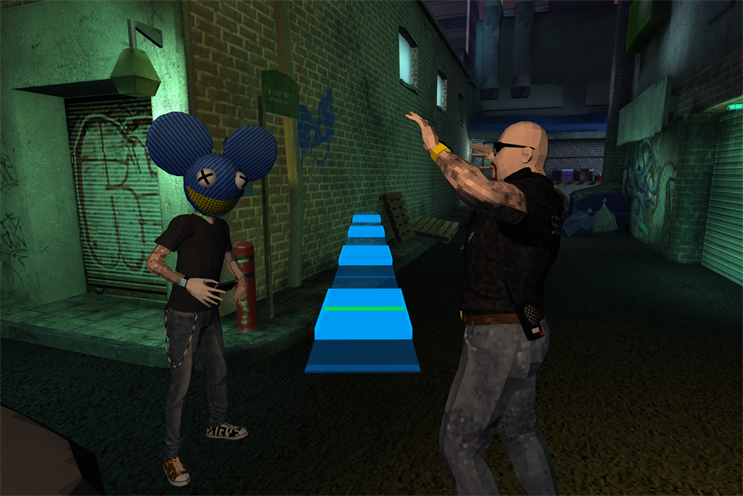 Absolut has teamed up with electronic music artist deadmau5 to create a virtual reality gaming app. "Absolut deadmau5," which debuts July 27, follows the eponymous musician on a journey from his studio to a nightclub gig featuring a new track, "Saved."
With "Absolut deadmau5," the vodka brand is attempting to move beyond the traditional bounds of branded content, merging technology, gaming and nightlife culture with an untested bid at monetization.
Diehard fans can pre-order a customized Google Cardboard viewer that features images of the musician's signature mouse head, as well as his cat, Professor Meowingtons. The viewer costs $17.95, while stock Google Cardboard viewers retail for $15.00.
"I don't think anyone has tried to monetize headsets on this scale," said Afdhel Aziz, director of Absolut Labs, the vodka brand's experimental projects division that created the app. Most brands typically give away customized viewers. "For $2.95 extra, we're testing a marketplace to see if we can give fans a limited edition piece of merchandise."
The viewer and the app are being pitched as a bundle, though the app is free and can be played without a VR mode.
The game gives players the chance to navigate a garage, drive the mean streets of Toronto and dodge overzealous security and selfie-crazed fans before getting a front-row seat to a deadmau5 show where they can hear "Saved," which the artist wrote for the game.
The idea for the game grew out of Absolut Labs' first VR work last summer, a live VR broadcast of a Bob Moses concert from a rooftop in Brooklyn. "That was an experiment to get our feet wet with VR and see what we could do with the boundaries of the technology, and still do something close to our heart with nightlife," Aziz said. Live events, however, present scalability issues. "That's what made us pivot to thinking about how you can create an immersive, rich experience that didn't rely on a point in time."
The team hit upon the idea of following an electronic music artist on a virtual night out. The choice of deadmau5 as a creative partner cemented the project's direction. He is a constant online presence, with 3.6 million Twitter followers and his own Twitch channel. He is also an avid gamer, with his own personal gaming studio.
"His audience is technologically savvy," Aziz said. "Because he is a fanatical gamer, the idea evolved from a live action night-in-the-life into something much more complex." Instead, "Absolut deadmau5" takes place inside a computer-generated world filmed in a studio with motion-capture suits and actors on stunt wires. Absolut Labs worked agency Forever Beta, and with Unit9 on the production.
In order to make the experience as authentic as possible, deadmau5 "was very closely involved in the creative direction of the whole thing," Aziz said. "He went back and reworked the track once he saw the visuals. He knew the kind of vibe we wanted."
Deadmau5 also added his own quirky sense of humor. To leave the studio and find the garage, players must enlist the help of Meowingtons. (With 31,000 Twitter followers, the Professor is popular with the fanbase in his own right.) "The cat follows him through various scenes in the different sections of the game," Aziz said. "For deadmau5 fans, that's the kind of detail that they like. That's how you know it's really him getting involved."
Deadmau5, who wrote a custom track for the project, also had final say on the customized viewer's design. (Presumably, the collaboration includes a cut of the viewer sales, though Aziz declined to share the details of the deal.)
Being able to experiment with non-traditional activations, like a VR video game, is core to the mission of innovation labs like Absolut Labs, which was formed in 2015 to help the brand explore new avenues for reaching consumers, marketing itself and influencing the nightlife scene.
"Labs is the space that allows us to think about how the brand can evolve," Aziz said. Projects that fail can be discarded with little risk or investment, and projects with promise — like "Absolut deadmau5" — can be developed in a freer environment. "You need to do it outside of the normal commercial cycle." While Absolut proper stillruns TV campaigns, print ads and retail promotions, they're completely separate projects.
It's a path Aziz predicts will catch on elsewhere. "Technology is the new medium that you can use to engage and delight your consumers," he said. "The faster brands learn to use technology, the better we're going to get at it. My bet is you're going to see a lot more innovation spaces coming out of any major brand worth their salt."
As for this particular activation, Aziz is hopeful that it will be well-received by fans. But even if the custom viewers don't sell, success can lie in a substantial number of (free) downloads. "To get anybody to spend 10 minutes with branded content, voluntarily and enjoyably, is huge," he said.