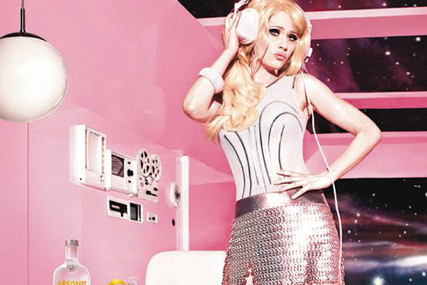 The 'Drinks' series campaign has debuted in men's style magazine 'Arena Homme Plus' spring/summer issue with Deschanel showcasing Absolut Citron-based cocktail, 'Cosmo.'
The series features the two actresses representing a different Absolut cocktail "experience" with the tagline 'Every Drink Is An Exceptional Experience'.

'Absolut Cosmo,' 'Absolut Bloody,' 'Absolut Twist' and 'Absolute Blues' are accompanied with photography by Ellen von Unworth.

The campaign was created by TBWA\Chiat\Day and features photography by Ellen von Unwerth with instructions on how to mix cocktails using their spirits.

The bottom of each of the posters include the straplines "A vision by..." followed by the actress' name, "and Ellen von Unwerth" with a prompt to visit Absolut's website.
Mark Hamilton, head of marketing for vodka at Pernod Ricard UK, said: "We believe that doing things differently leads to something exceptional and the 'Drinks' campaign is a great example of this.

"In our latest creative collaboration, von Unwerth, Besckinsale and Deschanel have created striking, bold and truly awe-inspiring images to showcase our exceptional drinks from a unique and creative Absolut perspective, underlining our approach and belief in creative collaborations."
Absolut recently funded a 30 minute online film called 'I'm Here' directed by Spike Jonze.
The video, produced by MJZ, the film imagines a world inhabited by both humans and robots, focusing on the central character of a lonely robot called Sheldon.