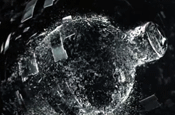 The ad is part of the brand's new global In an Absolut World campaign.

The ad shows an Absolut bottle split into tiled shards which peel back to reveal the vodka inside.

Marketing director for Absolut vodka at Maxxium UK said: "The visuals highlight the attention to detail that goes into making Absolut and emphasise the truly natural ingredients consumers can expect."

The campaign, shot by photographer Dan Tobin Smith, broke on Saturday on terrestrial and digital channels.