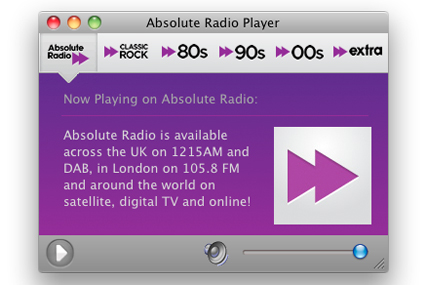 The free desktop app allows Mac users to stream Absolute Radio's network of brands, including Absolute Radio, Absolute 80s, Absolute Radio 90s, Absolute Radio 00s, Absolute Classic Rock and Absolute Radio extra.
The store launched yesterday in 90 countries and offers more than 1,000 paid and free apps for Mac computers. With no current radio apps available, the imminent approval of Absolute's app is expected to make it the first to go live.
With many radio apps having been created for iPhone, iPad and iPod touch users, though, it will no doubt not be long before it is joined by many other broadcasters, who have suuccesfully exploited the Apple platform already.
Apple, today, said more than one million apps have been downloaded from the store in its first day.
Clive Dickens, chief operating officer at Absolute Radio, said: "Absolute Radio has digital at its very core and this latest app development further demonstrates our belief in the future being listening via digital platforms."
In December Absolute Radio became first European radio brand to use the Apple iAd platform to promote itself and has upgraded all of its own apps to carry the ad platform.
Since its launch in September 2008 Absolute Radio has embarked on a number of digital initiatives, including 24-hour stations such as Absolute 80s and Absolute Radio 90s, and the "red button" service Absolute Radio Extra.
In total Absolute Radio said its 21 smartphone apps have been downloaded a total of 1.5 million times since September 2008.