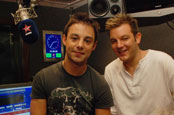 Backed by one of India's biggest media conglomerates, Times of India Group, which has agreed to buy Virgin Radio for £53.2m from SMG, Absolute Radio intends to invest £15m in a new brand. It plans to maintain Virgin Radio's current orientation as a rock and pop music station and is considering developing new digital services and other brand extensions.

Clive Dickens, Absolute Radio chief operating officer, ruled out rebranding Virgin Radio under Jack FM, the Oxfordshire station already part of the Absolute portfolio, or Radio Mirchi, which Times of India Group operates in India. Under the terms of the deal with SMG, Absolute Radio has an option to license the Virgin brand for £8m cash within two years of the deal's completion.

"There will be a new brand launching in the autumn - a brand that no one else has," he said.
"It was a key decision for the company and broadcaster to own the brand and develop it how we want."

Dickens added that the decision not to license the Virgin brand was based on a desire to avoid restrictions on the station's licence.

"As it stands, we couldn't have monetised anything online - for example, 50% of [Times of India's online radio] users don't live in the UK and we couldn't have monetised their contact with the station if we had stuck with the Virgin brand, which is a massive lost opportunity in this day and age."

It has also emerged, however, that Virgin Group is interested in reclaiming the Virgin brand to keep future radio expansion as a possibility.

SMG's agreement to sell the station has been completed several months later than expected, and nets the Scottish media group only one quarter of the amount (£225m) that it paid Chris Evans' Ginger Media Group for the station in 2000.

When the deal goes through in three weeks' time, according to Dickens, Absolute Radio will lose two key executives - executive chairman Richard Huntingford and chief financial officer David Palmer.

Absolute Radio chief executive Donnach O'Driscoll will assume the same role at Virgin Radio, as will Dickens and Absolute Radio financial director Adrian Robinson.

Nick Hewat, Virgin Radio sales director, David Lloyd, programming director and Andy Grumbridge, digital director, will all stay with the company once it is owned by Absolute Radio.

Virgin Radio's new owner: Times of India
Times of India Group is acquiring Virgin Radio through subsidiary TIML Golden Square, which will run the radio station alongside its Absolute Radio business. The deal is Times of India's first radio venture outside of its own market.
Times of India is one of India's biggest media conglomerates with interests in print, TV, radio, internet and events, managing some of India's biggest media brands including Top Gear, Grazia, The Times of India, the world's most circulated English broadsheet daily newspaper, and The Economic Times, the highest circulation financial daily newspaper in India.
It also operates Radio Mirchi, a 32-station commercial radio network broadcasting in 10 languages across India, claiming more than 40 million listeners, and Indiatimes.com, an internet portal with more than one billion monthly page views.
Beyond radio and print, Times of India operates an English language news channel in India and Times OOH, an Indian out-of-home advertising company.
The company is owned by Bennett, Coleman & Co, one of the largest media investors in India.
Bennett, Coleman & Co is partly owned by the Sahu Jain family, one of India's most prominent families.
Absolute Radio owns Jack FM, Juice FM and FM 107.9 in the UK, and has radio businesses in the US, Germany, Ireland, Hungary, Czech Republic and South Africa.
INDUSTRY REACTION

Richard Eyre, Chairman, GCap Media
"The Virgin branding issue was always coming up even if it had stayed in SMG's hands. It was the elephant in the room that was going to have to be dealt with. The lease for the Virgin name only applied in the UK market and any other development was prohibited. The days when you can make a success of a radio station as a stand-alone entity are gone"

Richard Menzies-Gow, Director of media research, Dresdner Kleinwort Wasserstein
"I guess it has unfolded the way we thought it would. SMG was never going to get the price it thought it would. Even if Absolute Radio had kept the Virgin Radio brand, it would have only paid £61m - which is considerably less than SMG originally valued it at. However, I think that £53m for a licence without the brand isn't bad for SMG"

Paul Robinson, Former chief executive, TalkSport
"It has gone for less than a quarter of the price SMG paid for it - so as an investment it's been a disaster for SMG. Absolute Radio has bought an AM network without the Virgin Radio brand - which is a great brand. It will be tough for them to make a return on £53.2m as I don't think AM has much future for music"

Paul Richards, Media analyst, Numis Securities
"SMG chose to sell it rather than being forced to do so. The price has to be disappointing for SMG if it was hoping for a figure of around £60m. Look at the purchase prices achieved for Emap Radio and GCap just a few months ago - they make Virgin Radio's price look relatively low in that context"