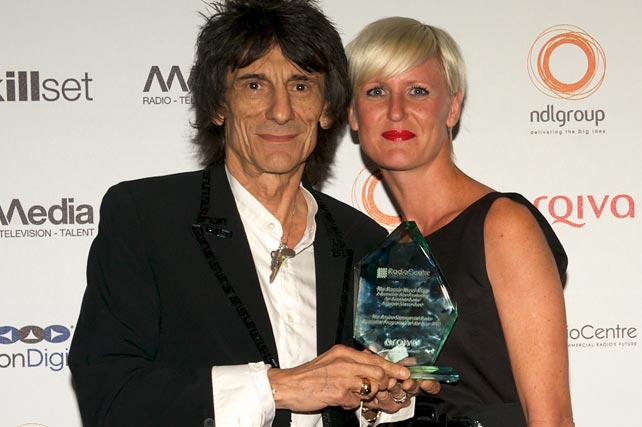 Following up on his Sony Radio Academy for Music Radio Personality of the Year Rolling Stone guitarist and Absolute Radio DJ Ronnie Wood picked up the award for Specialist Programme of the Year as well as the Newcomer Award.
Absolute Radio's four awards also included Breakfast Show of the Year for Christian O'Connell and Feature of the Year for Absolute Radio presenters and comedians Baddiel & Skinner.

Classic FM won the award for Large Station of the Year while Global Radio also picked up the prize for Marketing Campaign of the Year for the launch of the Capital FM Network.
106 JACKfm Oxfordshire picked up three awards including Station of the Year (300,000 to 1 million TSA), Presenter of the Year (300,000 – 1 million TSA) for Trevor Marshall and the Social Action Award for 'JACK in Afghanistan'.
The award ceremony was hosted by Absolute Radio's Christian O'Connell at London's Westminster Bridge Park Plaza Hotel in front of hundreds of executives from media owners, media agencies and creative agencies.
GMG Radio won three awards including the Station Imaging Award for Real Radio Northeast's sports team, Local Sales Team of the Year for Real Radio Northwest and Presenter of the Year (1 million + TSA) for Real Radio Yorkshire's Dixie & Gayle.
Bauer Media, who was nominated in an impressive 13 categories, picked up two awards including Programmer of the Year for Key 103's Gary Stein and Best Branded Content Award for the Blackberry Partnership for the Kiss Breakfast Show.
GTN, the sales house selling ads next to traffic updates across most commercial radio stations (part of UBC Media until 2009), won the coveted National Sales Team of the Year prize.
This year marks the first time the Radio Advertising Awards have been folded into the Arqiva Commerical Radio awards and Best Creative Campaign went to Bartle Bogle Hegarty for Tango Praiserama campaign.
The award for the Most Effective Campaign was won by independent media agency Walker Media for its Barclays Business Take One Small Step competition, which ran on Bauer Media and Global Radio stations.
Andrew Harrison, chief executive of commercial radio trade body RadioCentre, said: "Congratulations to all our winners this evening – we had some outstanding entries this year demonstrating the breadth and strength of commercial radio."
Digital Station of the Year went to Planet Rock while Small Station of the Year went to 96.2 Touch FM.
The Arqiva Commercial Radio Awards are in their 16th year and are open to all members of RadioCentre. Commercial radio groups such as UTV Media and UKRD are banned from entering.
Full list of winners at Arqiva Awards 2011The RadioCentre Chairman's Award
Michael Hill
Radioplayer
The Arqiva Commercial Radio Feature(s) of the Year
Baddiel & Skinner
Absolute Radio
The Arqiva Commercial Radio Specialist Programme of the Year
The Ronnie Wood Show
A Somethin' Else Production for Absolute Radio/Absolute Classic Rock
The Arqiva Commercial Radio Social Action Initiative of the Year
JACK in Afghanistan
106 JACKfm Oxfordshire
The Arqiva/RCS Commercial Radio Programmer of the Year
Gary Stein
Key 103
The Ali Booker Memorial Award for Journalist/News Team of the Year
Real Radio North East News
Real Radio North East
The Arqiva Schools Radio Award in association with the Vision Charity
ISCA College, Exeter
The PPL Best Breakthrough UK Artist on Commercial Radio
The Wanted
The Arqiva/Skillset Commercial Radio Newcomer of the Year
Ronnie Wood
A Somethin' Else Production for Absolute Radio/Absolute Classic Rock
The Arqiva Commercial Radio Presenter of the Year (<300,000 TSA)
Tommo
97.1 Radio Carmarthenshire
The Arqiva Commercial Radio Presenter of the Year (300,000 – 1 million TSA)
Trevor Marshall
106 JACKfm Oxfordshire
The Arqiva Commercial Radio Presenter of the Year (1 million + TSA)
Dixie & Gayle
Real Radio Yorkshire
The Arqiva Commercial Radio Station Imaging Award
Real Radio North East Sport
Real Radio North East
The Arqiva Commercial Radio Marketing Award
Capital FM Network Launch
Capital FM
The Arqiva Commercial Radio Local Sales Team of the Year
Real Radio North West Local
Real Radio North West
The Arqiva Commercial Radio National Sales Team of the Year
GTN (UK)
The Arqiva Commercial Radio Best Branded Content
Blackberry Partnership with the Kiss Breakfast Show
Starcom and Bauer Radio
The Arqiva Commercial Radio Best Creative Campaign
Tango Praiserama
Bartle Bogle Hegarty
The Arqiva Commercial Radio Most Effective Campaign
Barclays Business Take One Small Step Competition
Walker Media
The Arqiva Commercial Radio Advertiser of the Year
British Gas
Media Agency of the Year
Mindshare
The PPL Most Played UK Artist on Commercial Radio
Take That
The Arqiva Special Award
Fran Nevrkla
The Arqiva Commercial Radio Digital Station of the Year
Planet Rock
The Arqiva Commercial Radio Station of the Year (<300,000 TSA)
96.2 Touch FM
The Arqiva Commercial Radio Station of the Year (300,000 – 1 million TSA)
106 JACKfm Oxfordshire
The Arqiva Commercial Radio Station of the Year (1 million + TSA)
Classic FM
The Arqiva Gold Award
Dee Ford
The Arqiva Lifetime Achievement Award
David Jensen