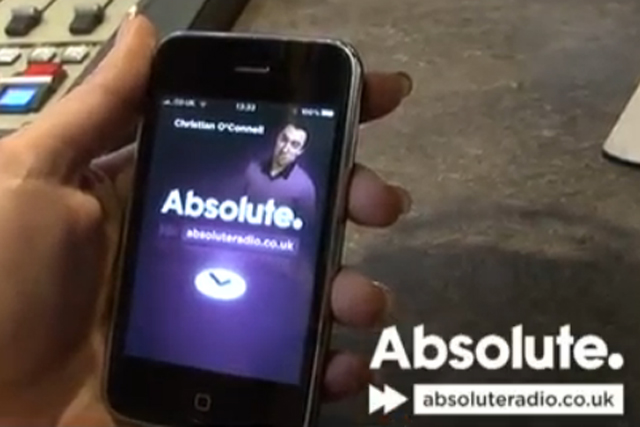 A spokesman for Absolute Radio said there were 220,000 active users in January, who used an Absolute Radio app for an average of seven and a half times, a total of 1.6 million listening occasions.
The average Absolute Radio mobile app user spent 37 minutes in an Absolute Radio app in January. However, the newest app, 'Rock 'N' Roll Football Live Scores', has an average dwell time of 57 minutes on match Saturdays.
Rajar, the audience-measurement system, provides radio companies with detail about where their listening hours come from and, although they are able to share the figures, they cannot speak about other radio groups.
Rajar will publish more detailed information later this year, but at present, Absolute Radio claims to be the only UK radio station to release streamed or on-demand listening hours, and provide information about active mobile application use.
Clive Dickens, chief executive of Absolute Radio, said: "This new mode of engagement is allowing us to learn more about our digital audience and our ever-increasing mobile community, to further enhance radio's accountability.
"I look forward to welcoming other UK radio brands to this new metric to aid better comparison of scale."
The Absolute Radio network, which includes Absolute 80s and Absolute Classic Rock, served 17.2 million hours of online content in January, including live online streamed hours, live mobile streamed hours, and on-demand. A spokesman for Absolute said this figure showed an increase of 45% from December 2010.
Absolute Radio has 10 apps, of which some, but not all, are available on platforms from iPhone, Android, Nokia, Blackberry and Windows Phone 7. A spokesman for Absolute Radio said they have been downloaded a total of 1.6 million times.
The January tracking was only carried out across 17 of the 31 different app/platform combinations from Absolute, although the company claims it will track every one by the time March's figures are released.
The apps are:
Absolute Radio
Absolute 80s
Absolute Radio 90s
Absolute Radio 00s
Absolute Radio Football
Absolute Radio Live Scores
OC's Clock
Frank's Clock
Dave's Clock
Iain Lee Show