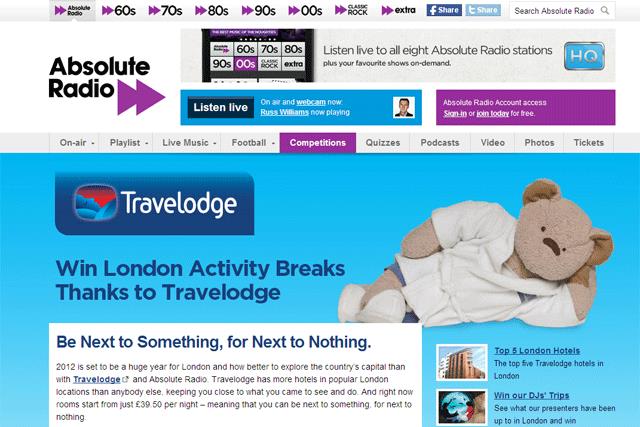 Using the tagline, "You can be next to something for next to nothing", the campaign aims to highlight the brand's down-to-earth, warm and welcoming approach and its 48 different locations around London.

From today (16 April), three on-air promotions will run until June and will be themed around music, the Queen's Jubilee and sport. Each promotion will reward listeners with trips to London, including two-night stays in a top Travelodge hotel, plus activities and spending money.

This activity will be amplified by three spotlight in-show features, which will send Absolute Radio DJs Richie Firth and Maggie Doyle ('Christian O'Connell Breakfast Show'), Pete Donaldson ('Absolute Radio 90s') to experience an event-filled weekend in London courtesy of Travelodge.

Listeners will have the chance to win the same weekend as the presenters. Prizes will include two-night stays in a Travelodge hotel, plus activities such as the London Thames Speed Boat experience, horse riding in Hyde Park, and London Eye and London Zoo tickets.
The partnership will be supported by online activity, including a dedicated microsite at www.absoluteradio.co.uk which will showcase the top five Travelodge London destinations, including Covent Garden, Waterloo, Docklands, City Road and Euston.
Louise Simkins, branded content director at Absolute Radio, said: "The tie-up has allowed for some creative on-air features and competition prizes, which will really help to add value to the partnership."
Amanda Burningham, associate director at Carat Sponsorship, said: "We needed to create a high-impact and engaging partnership for Travelodge that would bring to life the brand's honest and straightforward approach and showcase its plethora of London locations.
Absolute Radio recently offered listeners the chance to win tickets to the Uefa Euro 2012 championship in Poland and Ukraine, as part of its support for car manufacturer Hyundai's sponsorship of the tournament .
Follow Nick Batten on Twitter @NickBatten2