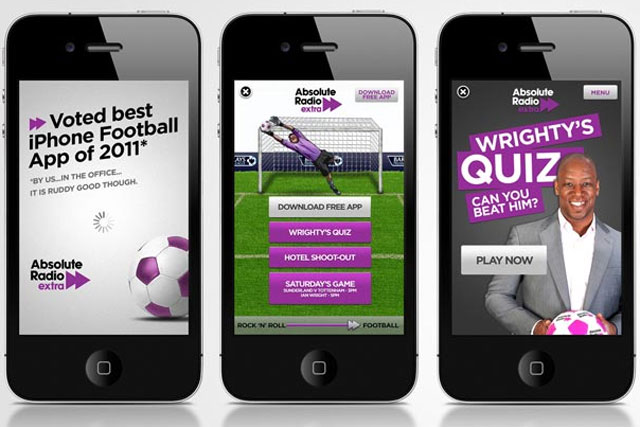 The campaign, created in-house using assets from a previous campaign by integrated agency Albion, stars former Arsenal footballer and now Absolute Radio presenter Ian Wright, and uses provocative banners and images of drummers, goal posts and goalkeepers.
Through the ads, users are able to click through to take 'Wrighty's Quiz' to see if they can beat him, download the Rock 'N' Roll Football Live Scores App, play the hotel shoot-out game, and set themselves a reminder for the Ian Wright show.
To accompany the iAd campaign, Absolute Radio has developed its football website at www.absoluteradio.co.uk/football, which will host the 'Wrighty's Quiz', matchday information, and the new football news reports from the Absolute Radio team.
Clive Dickens, chief operating officer of Absolute Radio, said: "Our combined iAd and digital marketing strategy for Rock N Roll football offer a high level of targeting and engagement. Our proposition is one of music and football colliding – that's our unique offering place marketplace and this digital offering perfectly demonstrates it."
Absolute Radio was one of the first brands to use the iAd format and this is its third campaign. A spokesman for the network said the time spent in its previous iAds was 101.8 seconds, above the average of 87 seconds and "way above" the iAd benchmark of 60 seconds.
In last week's figures from audience measurement system Rajar, Absolute Radio reported an average weekly reach of 1.65 million during the second quarter, up 3.8% year on year and up 18.2% quarter on quarter.
The Absolute Radio network, which includes digital stations such as Absolute Classic Rock and Absolute 80s, fared even better, with an average weekly reach of 2.90 million, up 43.4% year on year and 21.8% quarter on quarter, and the station's widest reach in nine years.
The improved Rajar figures followed a number of marketing initiatives from Absolute Radio, including the earlier iAd work, and were encouraging because the network has suffered declines in audience since it rebranded from Virgin Radio in 2008.