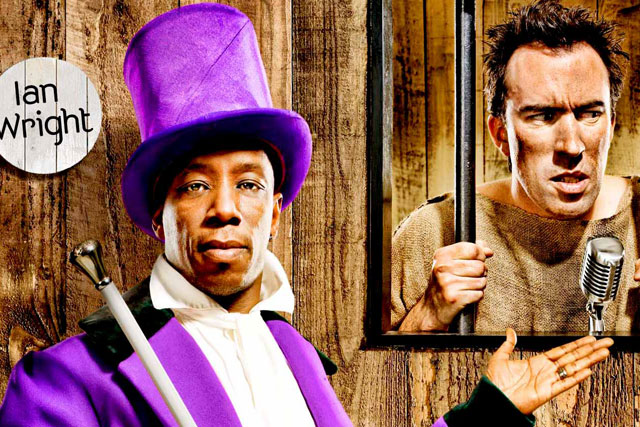 The digital outdoor ads have the tagline, 'Presenting for your curiosity – The Faces For Radio', and will use live RSS feeds to show the artist that is currently playing live on Absolute Radio in a bid to raise brand awareness and encourage trial.
The new 'Faces For Radio' ads, photographed by Gary Salter for Albion London, feature the breakfast DJs Christian O'Connell, Frank Skinner and Dave Gorman behind bars, with 'Rock 'N' Roll Football' host Ian Wright as a circus ringmaster.
The outdoor campaign starts tomorrow (1 February) and will include digital, backlit and scrolling 48- and six-sheets in central and greater London, promoting Absolute Radio's London FM frequency (105.8 FM).
The digital element of the campaign will include MPUs on third-party sites and will also feature "now playing" information, paid search, a homepage takeover on its own website, and banners across its mobile apps.
Clare Baker, marketing director at Absolute Radio, said: "The 'now playing' feature is designed to demonstrate the station's core music proposition and is in line with our dynamic digital credentials.
"For this campaign we are targeting the roadside and in-car audience, tempting them to trial the station immediately."
Media planning and buying was by WPP agencies MEC and Kinetic.
Absolute Radio launched its 'Faces For Radio' ads featuring O'Connell, Skinner and Gorman in March 2010, and brought the same creative back last February for a print, outdoor and digital campaign.
Follow Maisie McCabe on Twitter @MaisieMcCabe