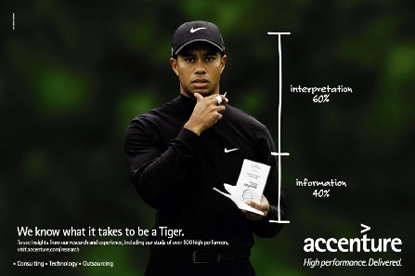 The global consultancy firm said that Woods was "no longer the right representative" following reports last week that he had cheated on his wife with several women.

Accenture's decision follows Gillette's announcement over the weekend that it would be "limiting" the role of Woods in its global advertising.

A current US campaign for Gillette featuring Woods will continue but once this has ended, Gillette, which uses the line "the best a man can get", said that it would help Woods "step out of the public eye".

Woods issued a statement late last week apologising for his behaviour and indicating that he will take an indefinite rest from golf to concentrate on his family life.

The golfer also has deals with Nike, Electronic Arts, TAG Heuer and Pepsi, which recently stopped marketing the "Tiger Focus" Gatorade drink.

EA and Nike continue to support the golfer.