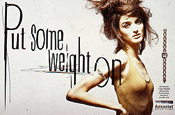 The watchmaker is understood to have shortlisted VCCP, St Luke's and Albion to pitch for the business. A decision is expected by the end of April. The winning agency will initially create a campaign to include print, digital and outdoor, as well as tie-ins with sporting events such as Wimbledon and The Olympics.
The company's media planning and buying account is handled by OMD and is unaffected by the search.
In recent years, the watchmaker has created its advertising in-house or has worked with agencies, including WFCA Integrated, on a project basis. It has not retained an agency since TBWA GGT Simons Palmer resigned the business in 2000.
Accurist has frequently come under fire from the Advertising Standards Authority for its shock campaigns.
One of the most notorious was TBWA's "put some weight on" ad that ran in 1998 featuring an emaciated-looking woman with a watch on her upper arm - not her wrist.
Three later ads featured unconventional people in their sixties, photographed in black and white, wearing Accurist watches.
One was a tattooed silver-servicewaitress; another a former bank clerk, whose face was covered in tattoos and piercings; and the third was a 65-year-old transvestite in full make-up. The endline was: "No ordinary old-timer."
This was followed in 2001 by a sexually suggestive ad featuring a heavily made-up young girl at a children's beauty pageant, photographed with her mother.
More recently, the Advertising Standards Authority banned a print ad that showed a woman with her hands between her legs. The strapline was: "me time."
Accurist is perhaps most famously known as the sponsor of the BT Speaking Clock since 1986. A family business, it was founded in 1946 by Asher and Rebecca Loftus and is thought to be worth £20 million.
The company, which has offices in the UK and Switzerland, is now run by Andrew Loftus, who is the chief executive, and his brother Richard.