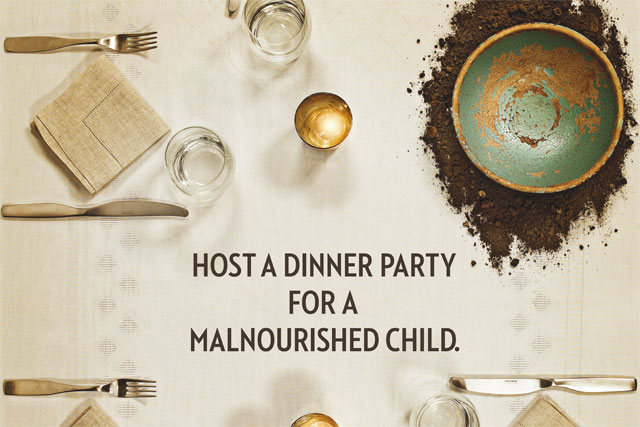 The 'Love Food, Give Food' campaign, created by Dare, will promote the charity's two key annual promotions, 'Eat In' and 'Eat Out'.
The 'Eat In' campaign encourages people to hold dinner parties at home, for which invitees are asked to contribute a donation to Action Against Hunger through Just Giving.
An ad for 'Eat In' features a party table prepared for diners. One places at the table is set up with a bowl and has dirt scattered beneath it.
The copywriter on the ad was Dan Gorlov and the art director was Rachel Le Feuvre.
By signing up to host a dinner party at the 'Love Food, Give Food' website, people will receive a Dinner Party Pack from the charity. The pack will include invites, name cards and recipes from leading chefs such as Valentine Warner, Jun Tanaka and Francesco Mazzei.
A second campaign, 'Eat Out' launching throughout September and October will encourage people to add donations their bills at participating restaurants and pub chains including Carluccio's and Geronimo Inns.