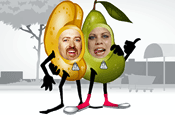 The campaign, created by digital agency Nonsense, aims to drive support for the charity's "Who Pays?" petition that calls for closer third-party scrutiny of dealings between supermarkets and their suppliers.
The viral, which features the voices of comedians Bill Bailey and Katy Brand, invites users to "dress up" as a piece of fruit by uploading a picture of themselves.
Then, through digital animation by Fuse, the user watches a battle between the fruit and supermarket trolleys as the voiceover outlines the campaign, how to pledge support and invite involvement.
The campaign is designed to maintain government pressure ahead of report that will be published by the Competition Commission in May.
Earlier this month, the commission released a number of proposals in a working paper including an independent ombudsman to "proactively investigate" breaches in practice of how supermarkets do business with their suppliers.
The viral can be viewed
here
.