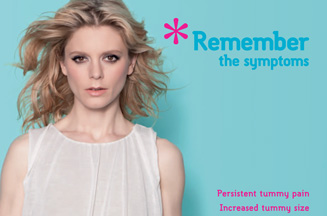 The 'Remember the symptoms' press campaign for Ovarian Cancer Action has been created by Rainey Kelly Campbell Roalfe/Y&R. It intends to inform women about the common symptoms of the disease, including persistent bloating and difficulty eating, and encourage them to seek medical advice.
The ad is relying on the generosity of media owners and will be rolled out in publications including the Financial Times as well as across IPC's female-focused media sites.
'Remember the symptoms' will continue to evolve in the lead-up to Ovarian Cancer Awareness Month in March. The charity plans to launch viral and other social media activity in February.
Ovarian cancer is the biggest gynaecological killer and the fifth most common cancer in women in the UK, affecting about 6800 women every year in the UK.
Ovarian cancer action is the leading ovarian cancer charity in the UK. It is dedicated to improving women's chances of surviving ovarian cancer by raising awareness of the disease and its symptoms.