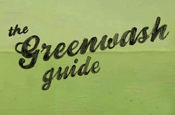 The Greenwash Guide was produced by the green communications company Futerra.
It said exaggerated claims in ads about the green benefits of products could undermine the drive to combat global warming.
Solitaire Townsend, the chief executive of Futerra, said: "Greenwash isn't simply annoying; it's dangerous."
During a time of economic belt-tightening, if green products and services are to survive, then people have to trust them."
The survey found reluctance among the ad agencies to change the way they advertised.
One managing director was quoted as saying: "If a car company has invented the world's first hybrid super car, which might still be very polluting, then as an agency, we could not turn to the client and tell them to sell it on the free sat-nav instead of the environment."
The report authors said that the Advertising Standards Authority should take action to produce guidelines on green advertising.
It also found that out of 39 media outlets surveyed, only three had heard the term "greenwashing".
View The Greenwash Guide