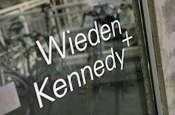 The ad company came at number 31 in the 2008 list, with 88 per cent of its staff finding their work stimulating.
In addition, 83 per cent of staff said that they did not get bored at work, with 81 per cent feeling secure in their job.
The Sunday Times said of W & K: "Chaos is what Wieden & Kennedy encourages, along with unpredictability and creativity. There can't be many companies that have these values but it seems to be doing the trick..."
Out of companies in the ad industry, W & K was only beaten by digital agency TBG, which ranked 14th in the overall list.
Other firms from the ad and branding industries include Perlfisher (37), Haygarth (38), Zed Media (43), Feather Brooksbank (47), Elmwood (80) and Vizeum UK (87).