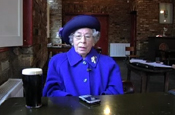 Albion
Have hours of fun creating your own Christmas Queen's Speech with this application created by Albion. A wealth of clips, featuring a regal impersonator, can be manipulated into any order (and length) you like.

AKQA
AKQA says it took a whole day to set up this microwave "choir". An impressive sight.

Grey London
Grey London is flaunting its green credentials in this ecologically friendly Christmas greeting. Decorate a tropical tree with jungle creatures.

Lowe
Lowe staff are trapped in coloured Christmas tree baubles, forced to sing a tune vaguely resembling 'jingle bells'. The scene is reminiscent of a particularly frightening episode of Dr Who.

MCBD
Another slightly scary greeting, although this time deliberately so.

McCann Erickson
Having festooned its building with an incredible array of cartoons, McCann Erickson continues the theme in its slightly pedestrian festive greeting.

Proximity
Visitors to Proximity's Christmas site were asked to take part in a virtual sponsored cycle ride. Bloggers have already pointed similarities with Glue's 2007 Christmas card which...err...asked users to take part in a virtual sponsored cycle ride. Proximity's effort raised £3,762 for Save the Children.

RKCR & Saint
RKCR's Camden home is shown at its best - and worst - in this video greeting card. Amy Winehouse enjoys a festive booze-up down the Hawley Arms, followed by a relaxing spliff... on the steps of the agency.

St Luke's
Users can create their own message, which appears as if written in snow. The greeting also allows recipients to sign-up for a real-life "global snowball fight". Bring it on...